Benefits of a Headset

Enhance your productivity and maximise your comfort with a standard or wireless headset solution. Headset technology has come a long way in the last few years. Gone are the days of line crackle, poor reception or low battery levels affecting the quality of your calls. Once you make the switch to a headset, you'll never want to pick up a handset again!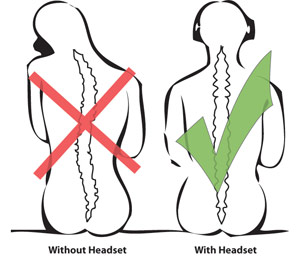 Consider the following benefits of a headset:
Freedom from your desk whilst on a call
Answer calls away from your desk (no more hallway sprinting)
Multi-task using both hands (typing, accessing files, note-taking)
Volume setting and mute features
Touch button to answer/make calls
Free up valuable desktop space
Maximum comfort without ruining your hair
Headset Ergonomic Benefits:
In addition, the ergonomic benefits of a headset are not to be underestimated. The occupational health and safety risks of prolonged use of a handset are well documented such as: Repetitive reaching for the handset (shoulder injury), prolonged sitting whilst on the phone (back injury), cradling the handset on your shoulder whilst trying to multi-task (neck injury). Quite simply headsets are a must if your job requires frequent or prolonged telephone use.
Healthy ergonomic decisions make for a more productive and efficient work space. The amount of ergonomic injuries in the office have led to an increased amount of company spending due to work disability. Businesses are now taking advantage of telephonic technology produced by both Plantronics headsets and Jabra GN Netcom headsets in making their offices a safer work environment. One of the leading injuries caused by bad phone ergonomics is Musculoskeletal Disorder which can be prevented with the right telephone headset.
Both Plantronics and Jabra GN Netcom have been delivering the safest ergonomically sound phone headsets for decades now. With both corded headsets and wireless headsets to choose from there is no excuse for telephone work related injuries anymore. Companies are now spending more on telecommunications equipment to prevent work related injuries in order to save more money in the long run. After using a telephone headset for sometime switching back to a handset can really be uncomfortable and distracting to the end user. Using a telephone headset or a wireless headset allows sitting in the upright position while talking on the phone. No more cradeling the handset between your ear and shoulder as this is one of the key positions that lead to injuries.
Some injuries are not immediate and take affect after years of using bad ergonomics. By this time the injury may be severe and take a long time of rehab to heal. Before reaching this point it is important to select the proper phone headset that is most comfortable to you. This will surely prevent future aches and pain as well as severe longtime injuries. Plantronics wireless headsets offer a variety of different wearing styles to choose from as well as increased roaming ranges of up to 350 feet. Although using a telephone headset may take some time to get used to, it is well worth it as it may prevent future injuries well beyond your working years. Telephones Online has been dealing with wireless headsets and telephone headsets for years seeing the positive benefits of being ergonomically sound creating a safer work space.
Telephones Online provides a large range of headset solutions, phone headsets including wireless headsets and bluetooth mobile headsets, reception headsets, call center headsets, telesales, office headsets, desk telephone headset and wireless headset for for Commander Phone Systems, NEC Phone Systems, Avaya Headsets, Panasonic, Aria-Nortel, Alcatel, Samsung, Aristel, Omni, Siemens, Goldstar, Cisco Headsets, Toshiba Phone System, Aristel, Fujitsu, Ericsson Telephone Systems.

Buy Online or Call 1300 088 088 for Help on purchasing the correct headset systems for your Business.