Avaya 3749 DECT Handset - Intrinsically Safe for industrial environments (700479462)
Avaya 3749 DECT Handset - Intrinsically Safe for industrial environments (700479462)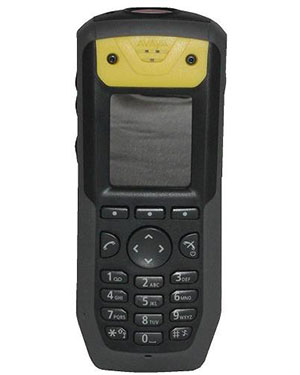 Details
Send to friend
Reviews
Avaya 3749 DECT Handset - Intrinsically Safe for industrial environments
The
Avaya 3749 IP Wireless Handset Phone
/
AVAYA 3749 DECT Handset
(Part number: 700479462)
is a highly ROBUST designed /
rugged production
to be used in demanding environment /
can be used in areas where an intrinsically safe device is required
(ex. example the
chemical industry, mills
).

Plus

, a
shock
and scratch-proof phones with back-lit keypads, large displays and enhanced liquid and dust protection are designed to enable users to quickly make and receive phone calls (take advantage of hold, conferencing and messaging and get efficient access to additional Avaya Aura Communication Manager Capabilities.
*
System compatibility
in
Avaya IP Office Release 7.0
or above
AVAYA 3749 DECT Handset
is a feature-rich telephone with color display, telephony, messaging, illuminated monochrome or color display, Bluetooth and alarm functions for personal security (
suitable for user's dependent of being reachable and/or having a need for mobile voice and messaging features, which makes it ideal for applications where the user needs either one way messaging or to be able to interact with other users).
Note
: The AVAYA 3749 DECT Handset is simply built-in sensor and alarming capabilities make these handsets a good choice for isolated or other high-risk work environments where an employee might be working alone (includes Caller ID - can be integrated with building security systems).
Features:
Compatible with Avaya IP Office Release 7.0 and higher
Compatible with Avaya IP Office Server Edition
Compatible with Avaya Communication Manager
Intrinsically Safe Design is customized for environments where there is a need for protection of electrical equipment in hazardous areas such as chemical industries, mills, ,mines, or places where flammable gases or dust can be found
Optimized for noisy, dusty environments such as factories, chemical plants, etc
Multi-Functional Button can be used for alarm calls when a man is down, or sensors to sound an alarm when non movement is detected on a man in a hazardous area
Integration with Security Systems for lone worker protection, or in high security environments such as jails and psychiatric wards
Backlit Color Display, no backlit keyboard
Water and Dust Protection
Shock proof design
Operating temperatures up to 10 degrees below zero
ATEX and IECEX approval for Gas: II 2G EEx ib llC T4
ATEX and IECEX Approval for Dust: II 3D Ex ibD 22
Half Duplex Speaker Phone
Supports Hands Free Answer Back
Four Way Navigation Key to scroll through features and line appearances
Softkey support for Hold, Conference, Voicemail
Bluetooth 2.0 headset support
Graphical User Interface- for access to Feature Menu and Telephone Book
19 Built In Language Interfaces- Brasilian Portuguese, Czech, Danish, Dutch, English, Finnish, French, German, Greek, Hungarian, Italian, Norwegian, Polish, Portuguese, Russian, Spanish, Swedish, Slovakian, Turkish
Up to 18 hours talk time while Bluetooth Headset not in use
Up to 10 Hours talk time while Bluetooth Headset in use
Up to 80 Hours Standby Time
Frequency Range: 1920-1930 MHz
Comes with Standard Battery and Belt Clip
Limitations due to power constraints on Intrinsically Safe Design:

Brightness of Display is lower
Keypad is non-backlit (security measure)
Vibration Ring tone and Sound Ring tone cannot be activated simultaneously
Lower volume ring tone/ beeper tone than 3740
Lower volume speakerphone than 3740

AIWS Features:

Phone Book: up to 250 Contacts
Text Message Support: Up to 30 storable messages sent/received with up to 160 character message length

Charger Sold Separately

Basic Charger 700500871
Advanced Charger 700500875: For Centralized Software Upgrade and Remote Handset Configuration
Multi-Battery Charger Kit: 7004799462 (Requires Spare Batteries)

When used on Avaya IP Office 500, requires VCM Channels and IP Endpoint Licenses
When used on Avaya IP Office Server Edition, requires IP Endpoint Licenses
Requires DECT Sari Certificate Per System for Installation
Requires Indoor Radio Station to Transmit Wireless Signal
Avaya 3749 DECT Handset - Intrinsically Safe for industrial environments
Part# 700479462
Customer Reviews
There have been no reviews for this product.