Uniden XDECT Submersible Waterproof* Extended Long Range Cordless Phone (XDECT8305WP)
Uniden XDECT Submersible Waterproof* Extended Long Range Cordless Phone (XDECT8305WP)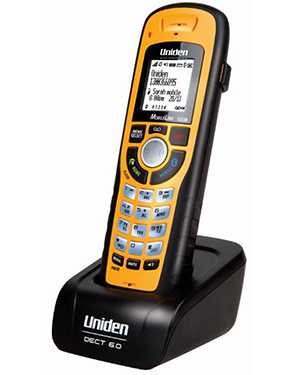 Details
Send to friend
Reviews
Uniden XDECT Submersible Waterproof* Extended Long Range Cordless Phone (XDECT8305WP)
This Additional Waterproof/Submersible Handset meets JIS7 Waterproof Specifications* This handset is Durable and Rugged enough to use Indoors and Outdoors. It is fully submersible in the Pool and Floats! With handy Rubber Side Grips and is Dust and Dirt Proof - Ideal for Factory use.

The XDECT® 8305WP is an optional handset which enables you to expand and enjoy all the features of the following Uniden models – XDECT® 81xx, XDECT® 6135, SSE35/37 and DECT 31xx series cordless phones and enjoy all the features shown:

Key Features:
XDECT® Digital Technology Phone System
Durable and Rugged Enough to Use Indoor and Outdoor
XDECT® 8305WP is compatible with the XDECT ® 81xx, XDECT ® 6135, SSE35/37 and DECT 31xx cordless phones series
Extended Coverage
Digital Duplex Speakerphone
Wireless (WiFi) Network Friendly
Room Monitor / Audio Baby Monitor (with XDECT® 81xx)
Intercom / Call Transfer
Eco Friendly Mode
Polyphonic Ring Tones
Call Conferencing
Time and Date Display
Hearing Aid Compatible (T-Coil)
Additional Features:
Belt Clip Included
Talk Time: 12 Hours
Standby Time: 12 Days
Battery Capacity: DC 2.4V, 650mAH
Dimensions: 190mm (H) x 80mm (W) x 110mm (D)
† Waterproof Handset: Meets JIS7 Waterproof Specifications - Being defined as having no ingress of water when immersed at 1 metre from 30 minutes. The Charge Cradle and AC Adaptor are NOT Waterproof.
Uniden XDECT Submersible Waterproof* Extended Long Range Cordless Phone (XDECT8305WP)
Part# XDECT8305WP
Customer Reviews
There have been no reviews for this product.