Telephone Record/Announce Adaptor- Amplified
Telephone Record/Announce Adaptor- Amplified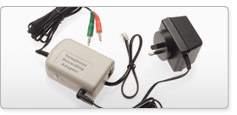 Details
Send to friend
Reviews
Allows you to connect your telephone to your recording device via the telephone handset connector. This Recording Adaptor is suitable for recording calls on all telephones with detachable handsets. It is particularly suitable for Digital Telephone Systems that have low levels of side-tone. For a list of telephones and systems known to require an amplified Recording Adaptor please refer to the Compatibility Chart.

Features:
Selector switch for different Telephone handset wiring.
LED to indicate correct selector switch position.
Pre-Amplifier and level control to boost near end voice.
9 Volt DC Plug Pack.
2.0m shielded lead with 3.5mm Stereo Phono Plug.
Compact size: L=80mm, W=55mm, H=30mm
Approvals: Australia (ACMA).
Similar to Telephone Recording Adaptor- Amplified but provides an additional audio lead to allow you to also connect to the speaker output of your PC. This enables pre-recorded announcements, tones or messages to be played to the telephone line.





Customer Reviews
There have been no reviews for this product.