Small Business Phone System, 3 Lines up to 8 Handsets
Small Business Phone System, 3 Lines up to 8 Handsets

Details
Send to friend
Related
Reviews
Small Business Phone System (3 Lines Up to 8 Handsets)
The small business phone system is structured depending on the customer's communication needs, as well as the size of the company. It can be composed of 3-line small business phone system as well as until 8 additional handsets. The Phone System office pack may include the following:
3 Easy to Connect Line Plus
Message On Hold
Auto Attendant
3 Loudspeaker Desk Phone Handsets
Up to 8 Handsets
Benefits of Customizing Your Own Phone System
Customizing your own phone system is a big advantage in a business' communication sector. Some excellent benefits brought by customizing phone systems are the following:
Exact Solution for Your Communication Needs
Powerful communications for a small business budget
You Only Pay for What You Need
Sophisticated solution, simple to use
Options for Phone System Combination
A total of 8 eight telephone plus are available:
1, 2 or 3x Lines (CO Inbound PSTN) connect to other Carriers (ie: VoIP Line)
8x Extensions (Includes first three CID Phones)
Use Standard Caller-ID (CID) Phones
Use ANY Standard Cordless Phones
FSK/DTMF Caller ID
Call Pick Up from Any Extension
Ring All-extensions Feature (Great in Emergency)
Call Transfer to Any Extension while Caller is On-hold
Out-Going-Message (OGM) for Auto Attendant Mode
Simple OGM:
"For Support Dial ONE or Dial NINE for the Operator"
Record Your Own Message
Built-in Music Onhold Melody
8x Communication Ports (Allows Many Concurrent Conversations)
Red LED Indicator for Power plus Red LED for each Extension in Use
Emergency Call on 2-lines (Line-1 and Line-2) When Power Fails
(Most Only Have One Power-fail Phone)
Dimensions: 460mm Wide x 430mm High x 80mm Deep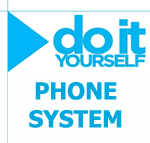 Simply dial Australia wide 1300 088 088 for a quote

Mini Kit User Manual
There is a downloadable PDF manual of the Mini Kit. Simply Click Here.

About TelephonesOnline
Telephonesonline Pty Ltd is the most trusted wholesaler in Australia. The company's portfolio is extensive and made up of all the solutions to your telecommunication needs. From budget-limited refurbished phones to advanced and complex new phones systems, the company can provide whatever you need while considering your situation and conditions. Some of the product offered by the company are the following:

Conference Phones • Corded Headsets • Door Phones • Full Range of Cordless Phones • Payphones • Super Long Range Cordless Phone System • Wireless Headsets
Telephonesonline also provides backup services for clients' communications needs. Some of which are:

Data Cabling • Fixing Line • Free Phone Support • Full Range of Spare Phones for All Systems • Installation and Relocation of Phone Systems • Least Cost Routing with GSM Gateways • Supply and Maintenance of Spare Parts
Telephonesonline also offers customization of packages. Clients can call its Melbourne office or visit it at 78 Scanlon Drive, Epping Victoria 3076.

Simply dial Australia wide 1300 088 088 for a quote

Customer Reviews
There have been no reviews for this product.