NEC SL1100 Telephone System with 8 Handsets
NEC SL1100 Telephone System with 8 Handsets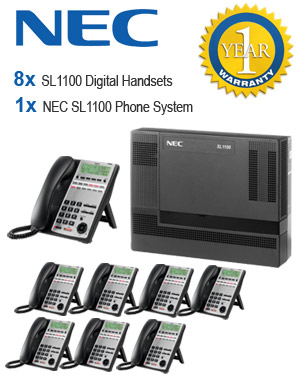 Details
Send to friend
Reviews
NEC SL1100 Telephone System with 8 x SL1100 Digital Handsets
Showcasing intuitive and intelligent features that could chauffer a business towards success, NEC SL1100 telephone system is a communication solution tailored for small and mid-sized businesses in any industry. Offering Digital and VoIP phone system, it provides a whole team or the whole company a communication tool that can be mastered without any need for training.
NEC SL1100 telephone systems comes from NEC's DSX product line considered very popular in the industry. With the versatility of the system, it provides businesses the solution their communication needs. Built-in functions like auto routing and auto attendant voice response system are included in the solution.
NEC SL1100: An Intuitive Phone Solution for the Entire Team
Included in the NEC SL1100 Phone System are the following:
NEC SL1100 Phone System Main Unit
4x Standard PSTN Lines
4x Analogue Extensions (Fax, Cordless, Alarm)
8x SL1100 Digital Handsets (12 Buttons)
4 Ports Voicemail
NEC SL1100 telephone system is a very intuitive tool offered at a low cost. This is what makes the solution perfect for small and growing businesses, considering the limited budget that these types of businesses have.

To inquire for a quote, please call Australia wide 1300 088 088

NEC SL1100 Phone System Features
Some of the hundreds of features that users can take advantage of in using NEC SL1100 phone system are the following:
Alarm Reports
Built-in Automated Attendant
Call Duration Timer
Call Waiting
Caller ID
Distinctive Ringing, Tones and Flash Patterns
Do Not Disturb (DND)
Ecologically Sound Power Saving Mode
Headset Operation
Hotline
InMail
Intercom
TAPI Compatibility
Traffic Reports
Voice Mail Message Indication on Line Keys
Voice Over
SL1100 Digital Handset Features
NEC SL1100 Digital Handset showcases several features, including:
Backlit keypad and soft keys
Adjustable angle
Programmable keys with LEDs
Headset port
Full Duplex Speakerphone
Built-in wall mount kit
Dual-color call indicator lamp>Dual-color call indicator lamp
Power saving sleep mode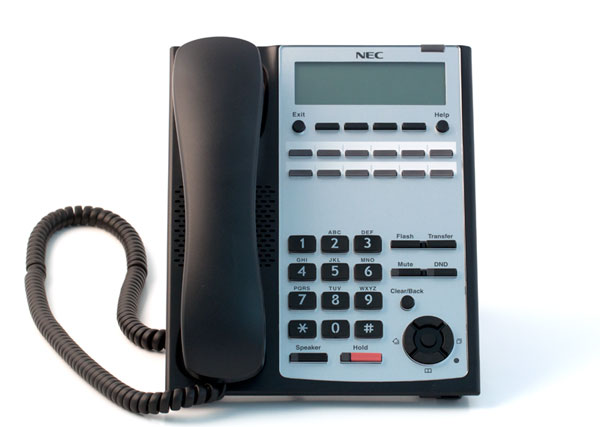 Phone Solution that Saves Money and Time
More than just a communication tool, NEC SL1100 phone system helps businesses more than just in that aspect but also when it comes to time-management and the financial facet.
Speeds up Working Processes
The communication tool includes powerful applications custom-made to save time, including shortcut buttons. This speeds up working processes which causes a domino effect and leads to an improvement in a business' productivity.
Speeds up Making Crucial Decisions
Always being updated and staying connected with employees enable faster decision-making, which can be crucial to the business.
Lowers Operational Costs
Using the communication tool will help lower a business' operational costs including costs meant for bigger office space and equipment.
Reduces Travel Time and Expenses
With the communication tool, there is less need to travel to and from work. This doesn't only saves time and also money, when considering transportation costs.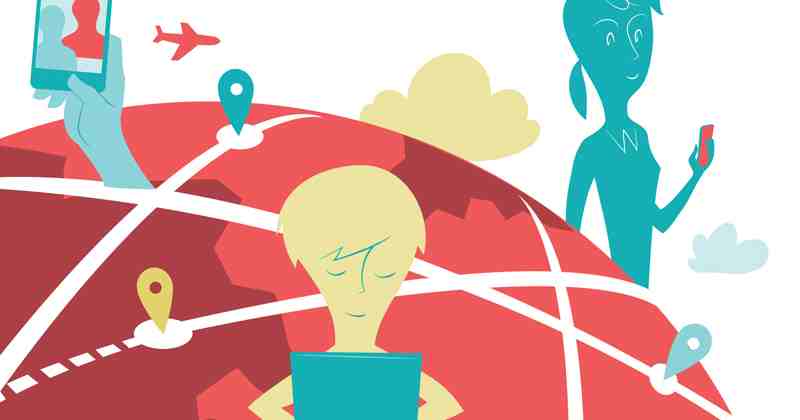 Supporting Mobile and Remote Workers with NEC SL1100
Remote and mobile workers are now made possible through technology. But more importantly, it is made more effective though topnotch communication solutions and systems. This is what the NEC SL1100 is capable to provide.
The key tool in making this successful is the SL Desktop Suite. With the telephony application that makes it possible to use the phone system through a laptop, working from home or anywhere is made possible. Through this application, employees can access the necessary communication tools to work effectively and efficiently.
Introducing the SL Desktop Suite
SL Desktop Suite is an avenue to access Unified Communications or UC solutions, which will boost the productivity of employees by simplifying processes and collaboration methods in the team. It provides the users with the full control of the entire system through the screen. This makes it more convenient and easy to use.
Some of the distinct characteristics of the NEC SL Desktop Suite are:
Easy Installation, Configuration and Maintenance
Simple and Easy to Use
Minimal Customization Required
Easy Microsoft Outlook Integration
Straightforward Licensing
Logical Pricing Structure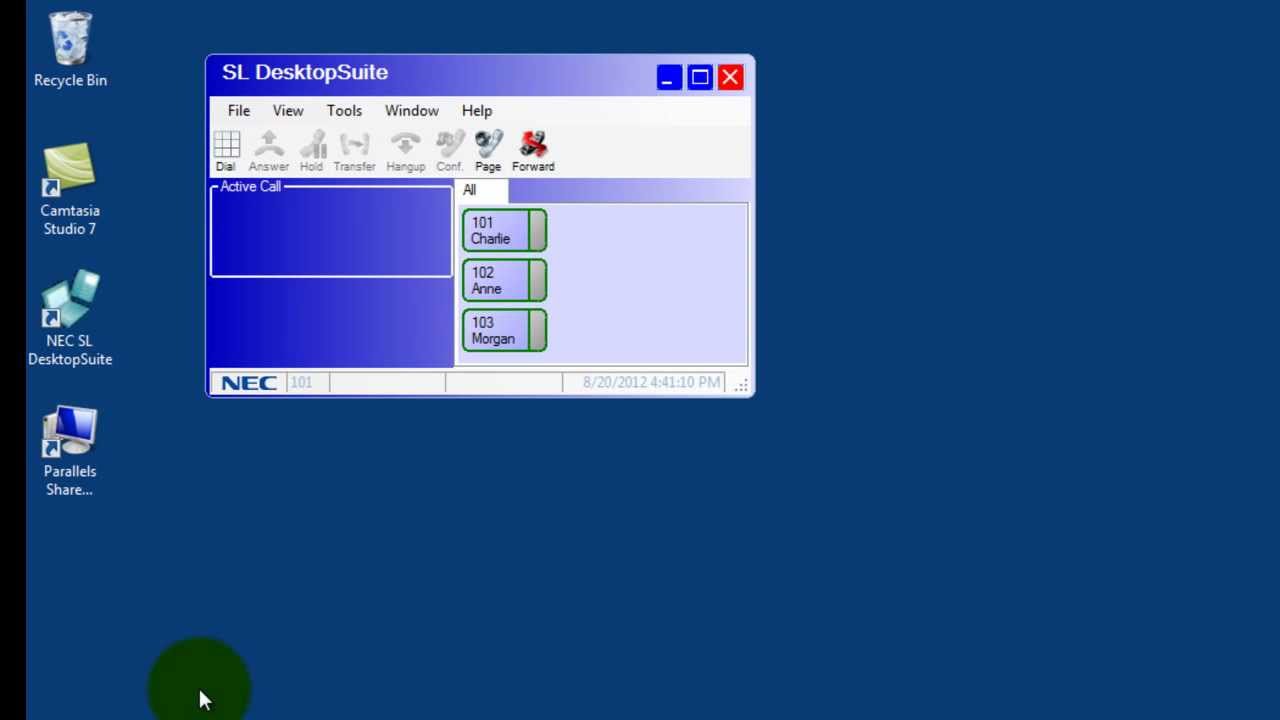 About NEC
NEC is one of Australia's popular companies offering phone systems from small businesses to large corporations. It is a company that can bring small businesses and home offices at the top of their industries.
NEC provides businesses with phone systems at lower costs, which is the reason why most small businesses would prefer it among all the other companies offering similar communication solutions.
NEC helps businesses improve their creativity, simplify administration and stay connected from anywhere on site, anytime, and at the same time continue to be reachable while on the road. It keeps the company effortlessly up-to-date, improve the business' customer service, and help businesses reach coming up with a decision faster.
The small businesses and SOHOs (Small Office/Home Office) customers often to use NEC phone systems include Health Providers, Motels, Professional Offices, and Retail Outlets.
Telephonesonline Pty Ltd is a company that offers more than just a ready-made solution, but more importantly packages and solutions, which are put together exactly as what customers need. The company knows the need to respect the budget of customers which is why Telephonesonline gives customers the prerogative to have a ready-made package or have a package be created for them. And this helps customers save money.
Telephonesonline offers its customers with competitive priced products. The company's no compromise policy on quality serves as its best offer for its customers. This certifies that the company only offers the best products. In addition, their ongoing service also provides Telephonesonlinewith the trust of the customers. Following through the customers on what more they need is enough proof that the company does not only care about closing a sale but more importantly, about what the customers need.
Telephonesonline is also proud of its fast delivery. One of its warehouses spread in the entire country is the Brisbane office located at 6 Nunney Place, Carindale QLD 4152.

To inquire for a quote, please call Australia wide 1300 088 088

Customer Reviews
There have been no reviews for this product.