Interquartz Gemini IQ333EHS Analogue integrated EHS phone for Hotel
Interquartz Gemini IQ333EHS Analogue integrated EHS phone for Hotel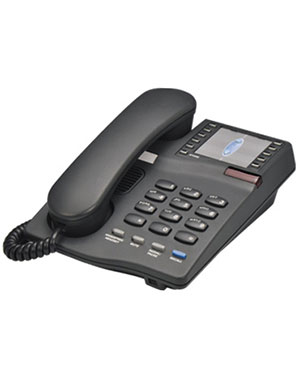 Details
Send to friend
Reviews
Interquartz Gemini IQ333EHS Analogue Integrated EHS Phone for Hotel

The Interquartz Gemini IQ333EHS Analogue Integrated Phone comes from a product family that is widely used among several unrelated businesses and industries, of all sizes and types. Whether the business is from the government sector or corporate enterprises, the IQ333EHS is excellent to be used for any communication need that may arise.
The Integrated Electronic Hook Switch or EHS Control is an exciting new offer for headset users. This specific feature eliminates the need to use handset lifter and Plantronics On Line Indicator or OLI since it is also supported. In addition, it has been excellently built-in so that the control will be compatible to all of the previous and current Plantronics professional wireless headset models. The models include the following:
CS510, CS520, CS530, and CS540
Savi W710, W720, W730, and W740
CS60, CS70N, CS351N, CS361N, and 510S
Savi WO100, WO101, WO200, WO300, WO350, WO430, and WO440
Warranty: Five (5) Year Parts and Labour
Features of the Interquartz Gemini IQ333EHS Analogue Phone for Hotel
The Interquartz Gemini IQ333EHS phone is a wall mountable and hearing aid compatible analogue phone that is ideal for the hotel and hospitality industry. Some of the features that it boasts are the following:
10 Memory Keys (Battery-free Permanent Storage)
3 Position Ringer Volume Switch
Hands-free Speakerphone (with Push Button Volume Control)
Message Waiting Lamp
Pause Keys
Recall Keys
Redial Keys
Tone Dialling
Excellent Headset Savvy Features
This package includes:
Built-in Headset Amplifier (Compatible with a Wide Range of Headset Types)
Electronic Hook Switch or EHS
Headset Mic Adjustment (Compatible to All Headsets)
Headset Cable Polarity Switch (Ideal for Any Headset Cord)
Mid-call Mode Support
Mute Key on Headset
Push Button Earpiece Volume Control
Silent Ringing Mode (Incoming Calls Heard on Headset)
Trainee/Supervisor Double Jacking Mode

Dial the Australia wide 1300 088 088 and know more about this product!
About Interquartz
Interquartz Pty Ltd is a privately-owned company in Australia that was first established in 1981. Throughout all those years, the company has worked with more than 5,000 customers and catered to their communication needs. It has provided more than 1 million products and solutions under several banner names, including IQ, IQTEL, and Interquartz itself.
All of the products and solutions from Interquartz are meticulously evaluated and tested, making sure to be extra focused and provide more attention to the details and their quality. In all of the 3 decades that the company existed, it has improved the performance and status of the Australian Telecommunications Industry. In fact, it is now considered as one of the most experience in all of the independent suppliers of analogue phones in Australia. Besides the analogue phones, the company also offers IP telephones, analogue cordless telephones, and IP cordless telephones. And besides these core products, Intequartz also offers non-core products from other brands.
About TelephonesOnline
Telephonesonline Pty Ltd is an Australian company that offers wholesale supply of business communication products and services all over the country. Operated in Australia itself, the company is an expert both in the industry and Australian market, including the demands of the customers and the trends. And since the company has been in the industry for more than 2 decades,
Telephonesonline had enough years to gather information about the market and the industry, making them capable of providing their customers with what they exactly need.
Telephonesonline is a telecommunication company that is well-known for the top-notch quality of their products and the competitive pricing that the products are offered. Since the company has a strict policy of "no compromise on quality", the quality of their products are ensured to be high and outstanding. And the competitive prices that Telephonesonline offers is made possible by offering second-hand and refurbished products, enabling them to offer their products and solutions to small and medium-sized businesses too.
Customer Reviews
There have been no reviews for this product.