Interquartz Enterprise IQ260B Analogue Black Business Phone for Hotel
Interquartz Enterprise IQ260B Analogue Black Business Phone for Hotel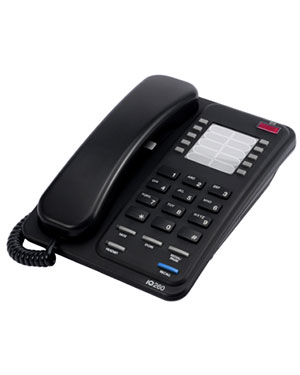 Details
Send to friend
Reviews
Interquartz Enterprise IQ260B Analogue Black Business Phone for Hotel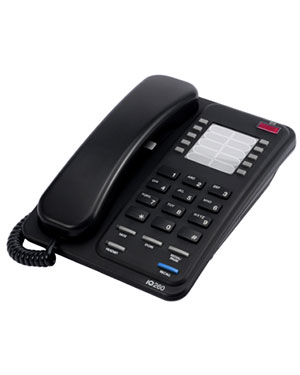 The Interquartz Enterprise IQ260B is a high quality telephone ideal for businesses, specifically the small offices and home offices. It is fairly compatible with most types of headsets. It is also ideal for training use, especially with its double jacking mode.
A hearing aid compatible device, the Interquartz Enterprise IQ260B has volume control and microphone level adjustment that ensures there is clear transmission in both directions.
This specific telephone is ideal for the use of businesses in hotel and hospitality industry, considering its excellent features including the mid-call mode support that could allow users to change conveniently and smoothly between headset option and handset option, even during an active call.
This package includes a black IQ260B Black Analogue Phone and a 10-year warranty that could cover both parts and labour.
Interquartz Enterprise IQ260B Analogue Black Business Phone Features
What makes the Interquarz Enterprise IQ260B Analogue Business Phone excellent for the hotel and hospitality businesses is the extensive features that the communication tool offers, which could conveniently help these businesses in their operations. Included in the features of this phone are the following:
Built-in Headset Support (Helps not to require headset amplifiers)
Built-in Message Waiting and Super Bright LED Ringer Indicator Lamp
Built-in Trainee/Supervisor Double Jacking Mode
Adjustable Headset Hearing Level with Slider Volume Control
Headset Cable Polarity Switch
Headset Microphone Level Adjustment
Hearing Aid Compatible
Large In-use Indicator Light (Shows when user is on call)
Mid-call Mode Support (Smooth change between headset and handset during a call)
Mute Key and Indicator
Noise-cancelling Handset Microphone
Redial and Pause Functions
Ringer Volume and Pitch Controls
Silent Ringing (Allows ringing to be heard only in the headset)
Wall mountable
5-year Memory Retention
10 One Touch Memory Keys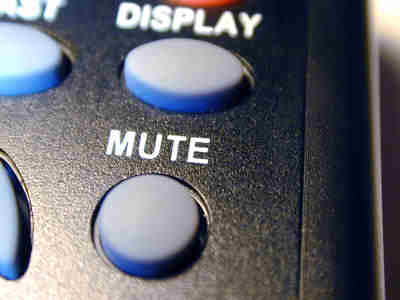 Want a quick and easy quote inquiry? Call Australia wide 1300 088 088.
About Interquarz
Interquartz is in the Australian telecommunication industry for at least 30 years now. The years of experience that the company have gathered being established from the very start gave way to the accumulation of learning and knowledge when it comes to what their customers need and what the market demands in general. In fact, the company prides itself with their technology development and these technologies are the bearers of the high quality products and services that the company offers.
Interquartz offers extensive PABX brands and several exchange equipment. And all throughout the decade, the company has improved and expanded its product portfolio that could cater to lots of customers in all types of industries. Though the company specifically offers its products and services in the Australian market, it also caters to the needs of customers in the Pacific regions. And a lot of businesses have climbed their ways to success through the use of the company's phone systems.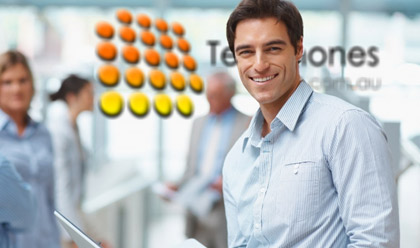 About TelephonesOnline
Telephonesonline is an Australian company that offers their services in an honest and just way. This is evident in the values that the company upholds in their operations ever since it was established.
Time is one of the most important value of the company. Telephonesonline is an established online company, and the largest telecommunication online store in Australia. The transactions of the company are done online and in a click of a button. In addition to that, the company also delivers excellently wherever its client may be in the country, considering the company's 20 years in the industry and how knowledgeable it is with the twists and turns of even the smallest streets in Australia.
Telephonesonline Pty Ltd is also a big fan of making sure that customers get the best end of the bargain. This is why it offers customised packages in order to have customers only pay for what they need. If you want to know and create your own package, you can visit the company's site at Telephonesonline.com.au.
Customer Reviews
There have been no reviews for this product.