Polycom SoundStation 2W Wireless Conference Phone (Non-Expandable)
Polycom SoundStation 2W Wireless Conference Phone (Non-Expandable)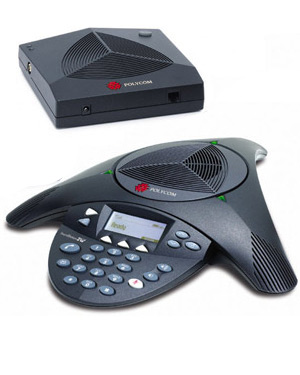 Details
Send to friend
Related
Reviews
Polycom SoundStation 2W Wireless Conference Phone
Get superb voice conferencing performance with the freedom and flexibility of the Polycom Sound Station 2W wireless conference phones.
Uses DECT 1.9GHz technology with up to 50m range. (Non-Expandable)

Product Features:
Polycom Acoustic Clarity™ technology delivers clear, natural conversations
DECT 6.0 technology for no wireless LAN interference
Roam up to 150 feet from base station
Up to 24 hours of talk time
10-foot (3.5-meter) microphone pickup range
Added security of voice encryptio

Now there is a wireless conference phone without cords that gives you the freedom to conference anywhere team collaboration is important, even in rooms where there are no phone lines. With superior voice quality to the award winning SoundStation, proven 2.4 GHz wireless technology, added security of voice encryption, up to 24 hours of talk time, the SoundStation2W is the new standard for everyday conferencing.

The SoundStation 2W delivers voice quality that is twice as loud and provides twice the microphone sensitivity as the original SoundStation enabling clearer natural, two-way conversations. Our secure and proven 2.4 GHz platform provides simple and robust wireless capability with any analog phone line. With reliable 45 metres wireless roaming from the base station, wireless frequency hopping to avoid interference, and a long lasting Lithium-ion battery, the SoundStation2W truly meets today's needs for excellent voice quality and usage flexibility.

Product Features
Acoustic Clarity Technology
Leading wireless capabilities
Added security
Dynamic Noise Reduction
Investment protection
Easy to use and install
Contact Telephones Online for more information on our Sound Station 2W wireless conference phones today.
Customer Reviews
There have been no reviews for this product.