Commander 16D Elite Phone - White Colour DTR-16D-1C (WH) (Refurbished)
Commander 16D Elite Phone - White Colour DTR-16D-1C (WH) (Refurbished)
Details
Send to friend
Related
Reviews
Commander 16D Elite Phone- White Colour DTR-16D-1C (WH) (Refurbished)
The Commander 16D Elite Phone is an efficient telephony tool that has a vital role in establishing the communication system and environment of businesses of all types and all sizes in whatever industry they may be under in.
KNOW MORE ABOUT THE PRODUCT
Compatibility: Suitable for Nortel BCM and Commander NT Phone Systems
Colour: White
Condition: Refurbished
Warranty: 12 Months
The device is excellent for jobs that require continuous connection to their company's network. Through the phone, calls can be easily made and received, positively contributing to the operations of the businesses.

Dial our hotline at Australia wide 1300 088 088 and inquire about this product.
Premier Phone Features of the Commander 16D Elite
4 x Soft Function Keys (System Dependant)
16 Programmable Keys
Adjustable 3-line LCD Display
Hands-free Function
Inbuilt Headset Jack
Message Waiting Light
What You Should Know about Refurbished Phones
Refurbished phones are not that much different than brand new ones. But the few differences between the two can be the deciding factors you can consider when choosing to purchase either a brand new device or refurbished ones for your business operations. These factors can also be the ones you consider if you will purchase the Commander 16D ElitePhone or not.
One of the most obvious difference between the two is the price. Brand new phones have higher prices than refurbished ones for obvious reasons. This is also why refurbished devices are excellent for small to mid-sized businesses with limited budget. Through refurbished devices, users with limited budget will have access to more features and more advanced technologies at affordable prices.
Refurbished phones also have some minor cosmetic flaws to their exterior design. The great thing about them is that they are fully tested, inspected, and repackaged by the company's qualified engineers, so the quality of these refurbished products are ensured. The quality is further ensured with the company's No Compromise on Quality policy.
Simply put, as long as your business has a need for telephones and telephone accessories like digital line cards or analogue line cards, your business can benefit from refurbished phone equipment. These refurbished phones work great for businesses with multiple employees who need multi-line phones, businesses that want to save money, and businesses that genuinely understand the value of refurbished electronics.

About Commander
Commander powers a lot of Australian businesses in a lot of industries through the company's phone systems, services, and solutions. When customers decide to focus on communications, which is one of the core functions of an industry. Stayingconnected is vital in businesses to make sure that all operations are smoothly in order, pushing the business to the path of success. With Commander Phones, extensions and locations can be moved, changed, and added when necessary.
Commander is a specialist in business communications. Since the company has existed for over 3 decades now, it has provided lots of Australian businesses with top-notch communications and technology solutions. It caters to all forms of communications like broadband and data technologies and office and mobile phones. This includes the entire integrated package including infrastructure, connectivity, and tools. All the necessary elements to stay connected. And this is how Commander helps businesses by providing real savings and efficiencies through the integrated solutions.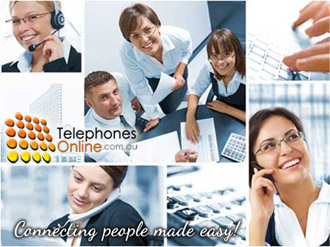 About TelephonesOnline
Telephonesonline Pty Ltd is anAustralian company under the telecommunications industry. It has been in the industry for over 2 decades now and has used its years of experience to offer the market with the greatest telephony products and solutions in the industry. And with a large portfolio that the company takes pride in, it is capable of catering to all types of customers, especially those that have communication requirements for their businesses.
Besides the company's portfolio, Telephonesonline also takes pride in its expertise in creating packages that could exactly fit to their needs. With its years of experience, the company is very knowledgeable about the Australian market and its demands, as well as the telecommunications industry and its trends.
Telephonesonline operates online but it doesn't compromise the efficiency and promptness of the products' delivery. The company has several warehouses and offices all over the country to aid them with their deliveries.

To make a quote inquiry, please call Australia wide 1300 088 088
Order today for FAST Delivery Australia Wide: Melbourne, Sydney, Brisbane, Queensland, Perth, Darwin, Canberra and Adelaide.
Customer Reviews
There have been no reviews for this product.