CallRecorder - Manual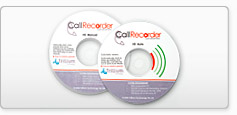 Details
Send to friend
Reviews
This version of software is suitable for applications where you want to manually start, stop and pause a telephone recording by using the Function Keys (F1- F9) on your PC keyboard or your Mouse.
Features:
Easy to install and operate.
Support for Trillium USB Telephone Recording Adaptors.
Auto File naming - with time and date stamp.
Selectable recording quality - allows you to determine the temporary HD disk space used for the raw recording.
Selectable file format - allows compression of raw recording before saving file.
Auto post processing to move, compress or Zip files.
Use Function Keys or mouse to activate Record/ Pause/ Playback.
Play recorded conversations through your PCs Soundcard to speakers or headset.
Play pre-recorded messages or beeps to the Telephone Line.

System Requirements:
BM compatible PC.
Sound Card or Free USB port if used in conjunction with USB Telephone Recording Adaptor
Microsoft Windows 98, ME, 2000, NT, XP or Vista.






Customer Reviews
There have been no reviews for this product.