Avaya IP500 Telephone System with 12 Handsets
Avaya IP500 Telephone System with 12 Handsets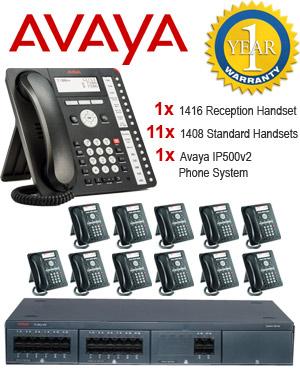 Details
Send to friend
Reviews
Buy a new Avaya IP500 phone system with 12 new handsets
NEW Avaya Telephone System includes:

Your new Avaya IP 500 main unit
8 x Standard PSTN lines
12 x Digital extensions
4 x Analogue extensions (fax,cordless,alarm)
11 x Avaya 1408 standard digital phones
1 x Avaya 1416 reception digital phone
Voicemail to email presentation (Avaya Essential Edition)
Visual Voicemail
Message control: Save, Delete, Forward, Repeat, Rewind, Fast Forward, and Skip Message
Break out to reception
All messages time & date stamped
Training DVD
The Avaya IP 500 is specifically designed for small business.
The Avaya IP Office Essential Edition is the base upon which to build your IP Office phone solution. Providing the necessary call handling and routing functionality for IP Office, Essential Edition helps ensure small businesses have the communications tools they need to operate effectively and efficiently. Get the basics: caller ID, dial-by-name, automated attendants, conferencing, voicemail, and more. Avaya Essential Edition provides the "must haves" small businesses need to enhance their communications with customers and colleagues and streamline their operations.
The key attribute of the adaptable Avaya IP 500 is that when the business is small, the IP 500 is a very affordable small office telephone system, but when the business grows, additional licences can be purchased to enable more features. This makes the IP500 base cost lower than other phone systems, which is why it is our small business telephone system of choice.
Can be set up as a traditional analogue or an IP (business quality VoIP) phone system
Inbuilt voicemail, conference call & call centre capabilities
Supports up to 32 connected business locations
Each Avaya IP Office IP 500 phone system base unit supports 8 expansion modules providing a combination of up to 384 analog, digital, and IP telephones, with capacity for 16 analogue trunks or 8 digital trunks (192 T1/PRI channels or 240 E1 channels). Optionally, SIP trunks are also supported. Additional analog trunks can be achieved by using expansion modules. Optional support for up to 128 voice compression channels is available. As and when required additional functionality is easily added which includes:
Auto Attendant to calls to relevant department/person by pressing 1 etc
Synchronising voice mail messages in an email inbox for easy message management
Synchronising email messages into voicemail
Scheduling, hosting & holding conference calls
Uploading documents for real-time viewing
Managing audio privileges for conference calls
Using agent reporting and wallboards for customer service environments
Capabilities of Avaya IP500 Telephone System
Automated-Attendants – Program up to 40 automated attendants (maximum 6 simultaneous calls) to handle almost any customer situation. Customize caller greetings so key clients receive a personal message and are routed directly to the most appropriate person or team.
Dial By NName/Extension – Callers can easily reach the person they want to connect with by simply typing the name or extension on the phone keypad.
Voicemail – A range of choices that enable staff to stay connected regardless of where they are. Retrieve voicemail messages from the keypad on any telephone, through the context-sensitive display on an Avaya phone, or via email (voicemail messages show up just like an email).
Benefits of Avaya IP500 Telephone System
Efficient call handling – Through touch tone prompts, quickly route customers to the right department to save your time and their's
Convenience – Enable callers to easily enter the name of the representative they seek for fast, personalized attention
24-hour access – Customized voicemail greetings for each member of your staff enables customers to feel connected even when you're not there.
Please call for a quote on install Australia wide 1300 088 088
Order today for
FAST Delivery Australia Wide

: Melbourne, Sydney, Brisbane, Queensland, Perth, Darwin, Canberra and Adelaide.
Customer Reviews
There have been no reviews for this product.