Avaya IP500 Phone System with 5 Handsets
Avaya IP500 Phone System with 5 Handsets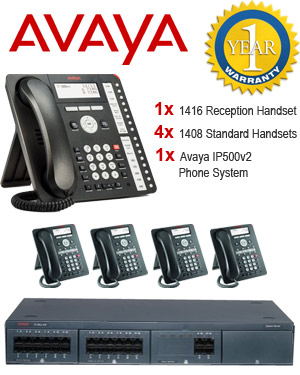 Details
Send to friend
Reviews
Avaya IP500 Phone System with 5 Handsets
Small and growing businesses have a lot of options to choose from, when it comes to communication systems. And the flexible Avaya IP500 Office Phone System is one of the best choices there are in the market. Considering the low cost of the phone system, it is perfect for growing businesses. And additional licenses can simply be bought after, if users want to unlock more capabilities.
The Avaya IP500 Phone System pack includes the following:
Avaya IP 500 Office Phone System Main Unit
4x Standard PSTN lines
6x Digital Extensions
2x Analogue Extensions (Fax, Cordless, Alarm)
4x Avaya 1408 Digital Phones
1x Avaya 1416 Reception Digital Phone
Voicemail to Email Presentation (Avaya Essential Edition)
Visual Voicemail
Message Control (Save, Delete, Forward, Repeat, Rewind, Fast Forward and Skip Message)
Break Out to Reception
All Messages Time and Date Stamped
Training DVD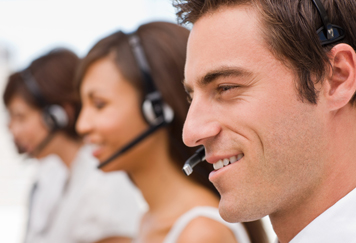 Quote could be inquired by calling Australia wide 1300 088 088

All about Avaya IP Office Essential Edition
Part of the Avaya IP500 Phone System, which will be the groundwork of the IP solutions for your business, the Avaya IP Office Essential Edition is an excellent tool to go by the device. The Essential Edition can provide a business with the necessary communication tools it needs for it to operate more effectively and efficiently. This is an important instrument for better call handling between employees, as well as between the business and its customers.
Using the Avaya IP Office Essential Edition can provides users access to some basic communication features considering the following:
Agent Reporting and Wallboards
Automated Attendants
Caller ID
Conferencing
Dial-by-Name
Real-time Viewing
Voicemail
Agent Reporting and Wallboards. Users can use several customer service environments, including the agent reporting and wallboards.
Automated Attendants.Users can program a maximum of 40 automated attendants and a maximum of 6 simultaneous calls. They can even customize the caller greetings for key clients, in order for them to feel more special and personal, in addition to being directly routed to a team of qualified agents to take care of them.
Caller ID.Users can automatically see who're calling. This will help screen out the calls to be able to prioritize people more. Conferencing.Users can connect to more than 1 call, which can save time and that instead of arranging a meeting, a conference call can simply be set up. The conference calls could be easily scheduled, hosted and held.There are also few audio privileges that could be taken advantage of from the conference calls.
Dial-by-Name.Users can just type the extension or the person's name to easily dial the number and contact them. Real-time Viewing. Users can have documents be uploaded and viewed in real-time.
Voicemail.Users can retrieve the voicemail messages through the handset's keypad, email, or Avaya phone's context-sensitive display. Staff will also have several choices to stay connected. Messages from the voicemail could be synchronized in an email messages and vice versa. This makes it easy for management.
Why Choose Avaya IP500 Office Phone System
The Avaya IP500 Office Phone System has a unit that is capable of supporting 8 expansion modules, 384 analog, digital, and IP telephones, and 16 analogue trunks (8 digital trunks). But besides its technical prowess, the reason why you should really use this phone systems comes in three forms.
CONVENIENCE. Users can conveniently connect to more than one person all at the same time, easily and without any additional instructions. Since the phone system is easy to use and understand, users do not need to dwell much on mastering the use of the system.
EASY ACCESS. Users have 24-hour access in the system. This means that they get to take advantage of its functionalities whenever they deem necessary.
EFFICIENCY. Users can have better communication and connection with other people, which improves their call handling. This is especially ideal for businesses, more importantly in handling their customers.

About Avaya
Avaya is a premier provider of devices and solutions, which aids businesses in improving the engagement of their teams and customers, leading to a lot of advantages for the businesses. Its best offer comes from a wide variety of deployment options, both cloud and on-premise. The company's unified communications devices, solutions and technologies are easy to use and very flexible, due to its compatibility with third-party solutions and products. This is most especially because of the existence of the Avaya Engagement Environment.
Avaya helps businesses not only to improve operations through better team engagement but also enhancing customer experience with excellent and efficient responses and reactions to their needs. And in collaborating with third-party companies, which are in the same league, Avaya is able to produce more innovative, flexible and roundabout solutions that could benefit a lot of businesses in all kinds of industries.
About TelephonesOnline
In looking for high quality telephony systems with less cost than most, Telephonesonline Pty Ltd is the company that can cater to that specific need.
Specializing customization of packages for different kinds of customers, Telephonesonline can assess whatever situation any customer could have and put together a package that will target what the customer exactly needs. Through this, customers will only pay for what they need. And since all products are of high quality, customers can be assured of both topnotch quality and low cost.
Telephonesonline also offers refurbished phone systems for customer with tight budget. Because of this, customers have other options to enjoy. From new and advanced phone systems to secondhand and refurbished ones, the products can be delivered any time and very promptly from several warehouses of the company located all over the country. One of which is the Brisbane Office found at 6 Nunney Place, Carindale QLD 4152.

Quote could be inquired by calling Australia wide 1300 088 088

Customer Reviews
There have been no reviews for this product.