MiniKit DIY SMALL BUSINESS PHONE SYSTEM, 3 Lines, 5 Handsets, Voicemail
MiniKit DIY SMALL BUSINESS PHONE SYSTEM, 3 Lines, 5 Handsets, Voicemail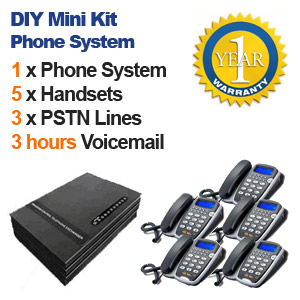 Details
Send to friend
Related
Reviews
MiniKit DIY Small Business Phone System (3 Lines, 5 Handsets, Voicemail)
The Do-It-Yourself Small Business Phone System Package starts with the following
1x Mini Kit Phone System
3x PSTN Lines
5x Office Handsets
Voicemail (3 Hours)
The Small Business Phone System pack can be expanded up to 8 additional handsets, in addition to cordless or desk phone with speed dials and loud speakers. Or if chosen, users could just opt to purchase 4 additional handsets or 5 additional cordless telephones. These features are also available:
1x, 2x, 3x Lines (CO Inbound PSTN)
8x Extensions (Includes first three CID Phones)
Standard Caller ID (CID) Phone
FSK/DTMF Caller ID
Call Pick Up from Any Extension
Call Transfer to Any Extension while Caller is On Hold
Any Standard Cordless Phones
Dimensions: 460mm Wide x 430mm High x 80mm Deep
Outgoing Message (OGM) for Auto Attendant Mode
8x Communication Ports
Ring All-extensions Features (Great in Emergency)
Built-in Music On Hold Melody
Emergency Call on 2 Lines (Line-1 and Line-2)
Simple OGM
Red LED Indicator for Power plus Red LED for each extension in use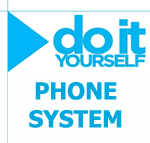 The CO Inbound PSTN Lines can be connected to other carriers like the VoIP line. And with 8 communication ports, many concurrent conversations are made possible. In addition to that, the simple outgoing message says: "For support, dial ONE or dial NINE for the operator". Users can also record their own message when preferred to have a more personalized touch.

A quote inquiry can be made by dialing Australia wide 1300 088 088

Optional Handset
The optional handset offered in the package includes the following features:
Speed-dial Memory
Local Music On Hold
Blue Backlight
Volume Control
Hands-free Full Duplex Speaker Phone
The handset is in an attractive and high quality casing. Generally, it is excellent and offers great value in most situations. This package is also called "Office-in-a-box" because of the PABX that comes with it. The PABX is capable of controlling 3 lines and has 8 extensions. It also includes the following features:
Music On Hold Melody
Intercom Facilities
Auto Attendant Mode
Recordable Message
3x Display Phones, Cables and Instructions

Mini Kit User Manual
If you are want to learn more how to use the kit, download the PDF Mini Kit Manual and Click here
About TelephonesOnline
Australia's largest online store, Telephonesonline offers extensive portfolio of communication products ideal for all types of businesses. Small businesses with limited budgets can take advantage of the company's pre-owned and refurbished handsets and phone systems. With a variety of products that could be purchased, customers have a lot to choose from. This is perfect for businesses with small, home and remote offices.
Telephonesonline also caters to large companies looking for advanced and complicated phone systems to get them by more conveniently and seamlessly in the digital world. From IP Phone Systems to VoIP, the company also have a wide variety of communication tools for businesses with complex structure.
Several of the brands that Telephonesonline offers are the following:
Avaya • Alcatel-Lucent • Aristel • Ericsson • Exicom • Gigaset • GN Netcom • NEC • Nortel • Plantronics • Panasonic • Polycom
One of the company's offices that could be visited can be found in Melbourne at 78 Scanlon Drive, Epping Victoria 3076

A quote inquiry can be made by dialing Australia wide 1300 088 088

Customer Reviews
There have been no reviews for this product.