NEW BUSINESS PHONE SYSTEM, 4 Lines up to 4 Handsets Voicemail
NEW BUSINESS PHONE SYSTEM, 4 Lines up to 4 Handsets Voicemail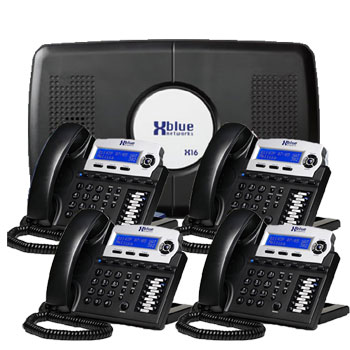 Details
Send to friend
Related
Reviews
XBLUE New Small Phone System (4 Lines, 4 Handsets, Voicemail)
The XBLUE Networks new small phone system package came from the idea of providing small business with what they need, and what they only need. While the package is only consisted of a small number of lines and handsets, it could be expanded for more.
Included in this pack are the following:
4x Lines
4x Digital Handsets
Voicemail
Music On Hold
VoIP (Optional)
The package could be expanded up to 16 handsets, with the inclusion of voicemail. It could also include optional additional 2 line card.

Call us at Australia wide 1300 088 088 for a quote inquiry


Boosting Team Engagement with XBLUE Package
The new small business phone system of XBLUE Networks offers a big advantage to a company's team management. This is comes in several forms and also affects the company in varied ways.
Better Internal Communication
Using the XBLUE Networks small business phone system package improved the internal communication of a company since an excellent equipment and phone system are backing up the communication system of the company. In fact, meetings are made possible wherever the employees are.
Better External Communication
The internal communication of the company is not the only aspect that has been improved, but also the external communication. Employees are able to improve their communication with the customers, thus, also improving customer service and satisfaction. In addition to this, the company is also able to improve its communication and relationship with its partners. This improves the company's operations in general.
Faster Critical Decision-making
Since communication is enhanced internally and meetings can be hosted wherever the employees may be and despite their distances from one another, it is only logical to be able to decide on important matters faster and more promptly. This saves a lot of time for the companies and can get to working on the company's priorities instead of worrying on issues and lingering on it for a long time.
XBLUE Networks New Small Business Phone System Features
The new small business phone system package from XBLUE Networks includes these features:
4x or 6x Lines (CO Inbound PSTN)
16x Extensions
2x Conference Circuits
4x Ports Voicemail System
Auto Attendant System
Caller ID
Call Transfer
Music On Hold
Phone System Programming
Telephone Navigation Key (User-friendly)
Note: The office phone handsets can have wireless headset attached to them. Cordless phones cannot be attached to the phone system.
About XBLUE Networks
Being in the telecommunications industry since 1997, XBLUE Networks has a mission to provide premier products and services to small businesses of any industry. The company lives in the belief that communication is one of the most vital aspects of any business' triumph. From employee relations to customer service, communication is very important for a business to stay afloat and succeed for a long period of time.
The X in the XBLUE represents the communication's crossing in different industries. It represents the company's strategy of combining the most powerful and advanced technologies of the present time. In combination, the BLUE is a sign of commitment. It signifies the commitment of the company to provide its customers with only the best yet taking into consideration the cost it would take from the customers.
XBLUE Networks provides topnotch products and services at a low price. This serves as the company's commitment to help businesses and push them to success.
About TelephonesOnline
Telephonesonline serves as the best supplier for wholesale business communication products and services all over Australia. For excellent quality and affordable prices, customers go to the company for these two factors. And throughout more than 2 decades, the company has been providing small businesses with topnotch product and services at competitive prices.
Telephonesonline Pty Ltd was able to provide its customers with only the best throughout the years because of its experience in the field. The company knows every corner the telecommunication industry in the country and all the needs that companies have in order to aid them towards success. And for its affordable and competitive prices, the company is able to offer excellent products at such low cost by offering refurbished and secondhand phone solutions and handsets. In addition to that, it also offer only exactly what customers need.
Visit one of the company's office in Perth at 1/36 Irvine Drive Malaga WA 6090.

Call us at Australia wide 1300 088 088 for a quote inquiry

Customer Reviews
There have been no reviews for this product.