Telephone Recording Adaptor jack with 3.5mm plug (Handset, Phone Recording jack)
Telephone Recording Adaptor jack with 3.5mm plug (Handset, Phone Recording jack)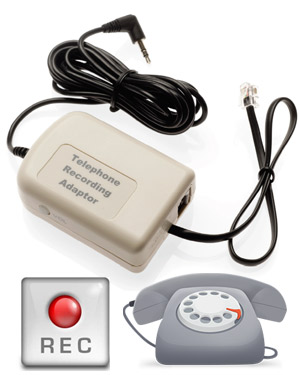 Details
Send to friend
Reviews
Telephone Recording Adaptor jack with 3.5mm plug.
(Deskphone, Handset, Phone Recording jack)
For Montoring and Recording Both Sides of Telephone Conversations
Allows you to connect your phone to your recording device via the 4-wire handset connector. This recording adapter is suitable for recording calls on most telephones with detachable handsets, including analogue telephones and most digital telephone extensions.
Overview
Telephone call recording adaptors to allow you to professionally record your telephone calls to a computer or other recording device.
Easy (DIY) installation and low equipment cost, make the Trillium Recording Adaptors the ideal phone recording solution for small to medium size businesses e.g SOHO, accountants, insurance brokers, call centers, telemarketing, sales, legal practitioners, journalists etc.
Regardless of which telephone or phone system you are using, we have a suitable phone recorder for your application.
Telephone Recording Adaptor jack with 3.5mm plug:
Plugs quickly into compatible modular phones where recording capabilities are needed
Use with any standard high impedance tape recorder with a stereo size jack - opposite end plugs into handset port of telephone (no tools required)
Great for training and coaching
Often used by insurance companies, stock brokers, customer service agents, law firms as well as emergency and government security agencies for recording threatening calls or conditions
Plugs into the telephone handset port, then the handset plugs into recording jack
To use with a headset, simply plug into handset port of phone and connect to amplifier connection cord (goes between amplifier and phone)
Audible monitor "beep" tone not provided
Note: in some states it is illegal to record a conversation without the other party's knowledge
Telephone Recording Adaptor Features:
Record Level Control.
Does not require batteries or Plug Pack.
2.0m shielded lead with 3.5mm Stereo Phono Plug.
Compact size: L=80mm, W=55mm, H=30mm
Approvals: Australia (ACMA), Europe (CE)
1 year manufacturer's warranty
Detailed Description
Telephone Recording Adaptor allows you to connect your telephone to your PC or Recording device to record telephone conversations. The adapter is easily connected to any telephone with a detachable handset.

The Recording Adaptor is ideal for recording telephone conversations, for later reference, to confirm details of the conversation, such as; the order quantity, agreed price, name, telephone number, address or credit card details. It is also extremely useful for recording telephone interviews and conference calls for later transcription or minute taking.
It is a valuable training tool, allowing you to record sales and customer service calls for later analysis to enable you to develop appropriate training for Customer Contact staff.
Customer Reviews
There have been no reviews for this product.