Panasonic KX-TG6822 Cordless Phone Twin Pack, Noise Reduction, Call Blocker, Answering Machine (KX-TG6822)
Panasonic KX-TG6822 Cordless Phone Twin Pack, Noise Reduction, Call Blocker, Answering Machine (KX-TG6822)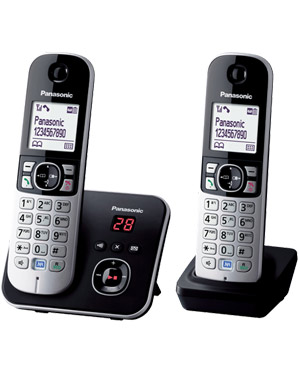 Details
Send to friend
Reviews
Panasonic KX-TG6822 Cordless Phone Twin Pack
Panasonic KX-TG6822 Cordless Phone Twin Pack is consisted of the following devices:
Panasonic KX-TG6822 Cordless Phone (with base unit)
Panasonic KX-TG6822 Cordless Handset (with charger)
Panasonic KX-TG6822 Cordless Phone has a large 1.8-inch white backlit LCD display that makes it easier for users to read through the details of the call and also operate the device through its simple menu.
Panasonic KX-TG6822 Cordless Phone is perfect for professional use, especially with its power failure talk system. This system allows this cordless phone to continuously function despite the power going out. This also assures that no interruption will be made when the user is in mid-call. This gives users the peace of mind that they need.
With unique One-touch Eco Mode, the Panasonic KX-TG6822 Cordless Phone can reduce power consumption and signal output. Besides this feature, the cordless phone is also integrated with the noise reduction technology. This technology ensures awesome clear calls through advanced audio features. The noise reduction feature allows clear conversations by suppressing the background noise up to 75% when in call. In addition, the phone also has customised sound mode that can be used to adjust the pitch of the phone voices, making this device compatible and comfortable to be use by all ages.
Panasonic KX-TG6822 Cordless Phone uses advanced digital answering machine with remote operation. This feature offers users the convenience by having an SMS message sent to a pre-registered mobile phone to alert users once a new message is recorded by the answering machine.
Panasonic KX-TG6822 Cordless Phone has several features that provide users the convenience they need, including customised incoming call block, smart key, and night mode. The customised incoming call block can be set so that users can avoid calls from certain people. When the user is sleeping, he can activate the night mode in order to avoid being disturbed. And lastly, the smart key can be used to answer incoming calls with speakerphone on, snooze the alarm, check missing calls, and listen to a voice message with a single press of the flashing smart key.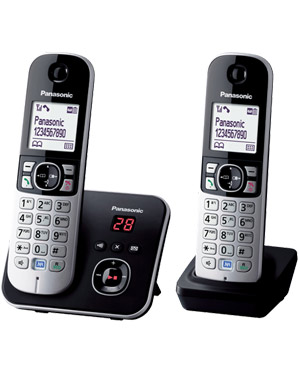 More Product Information
Manufacturer:

Panasonic

Phone Type:

Cordless Phone

Colour:

Black and Grey

Condition:

Brand New

Talk Time:

Up to 15 Hours

Standby Time:

Up to 170 Hours

Charge Time:

Up to 7 Hours

Base Dimensions:

107 mm x 86 mm x 77 mm (W x D x H)

Base Weight:

120g

Handset Dimensions:

48 mm x 29 mm x 164 mm (W x D x H)

Handset Weight:

129g

Charger Dimensions:

70 mm x 70 mm x 39 mm (W x D x H)

Charger Weight:

39g

Warranty:

12 Months Replacement
Reminder: Requires optional handset.

Talk to our experts to learn more. Dial our hotline now at Australia wide 1300 088 088!
Panasonic KX-TG6822 Cordless Phone Features
Noise Reduction Technology
Clear Sound with Equaliser
Advanced Digital Answering Machine with Remote Operation
DECT/GAP Capable
Multiple Handsets Capability: Up to 6 Handsets
Blue Ringer/Charger Indicator
Customised Incoming Call Blocking: Up to 30 Names
Customised Sound System
Short Stroke Key
Power Back-up Operation
Smart Function Key
Advanced Alarm Clock
Night Mode
Call Restriction
Low Radio Power
Clear Sound
One Touch Eco Mode
Caller ID/Caller ID Memory
Speed Dial
103 x 65 Pixels Mono LCD Display
White LCD Backlight Colour
Redial Memory: Up to 10 Names and Numbers
6-step Speakerphone Volume
4-step Receiver Volume
3-way Conference Call with Outside Line
Call Share
Intercom
Any Answer Key
Mute
Clock
Alarm
Key Lock
Wall Mountable
Reminders: Requires subscription to Caller ID service offer by user's telephone company and also requires registration in Phonebook function.
About Panasonic
Panasonic Corporation was created in March 1918 by Konosuke Matsushita. And in December 1935, the company was incorporated and renamed Panasonic Corporation in order to conform to its global brand name, Panasonic. The company since then has flourished to become of the bests today, even becoming one of the largest manufacturers in the world of electronic products. It now has around 475 consolidated companies and more than 200,000 employees working for the company worldwide. Led by Kazuhiro Tsuga, it is currently headquartered in Osaka, Japan. And these thousands of employees support the operations of the company worldwide.
Panasonic has been in operation for decades. It has polished its product portfolio and now owns one of the largest patent portfolios of the world. And while the company is widely known for manufacturing electronic products, Panasonic also offers non-electronic items, including home renovation services and comprehensive business solutions for all types of customers.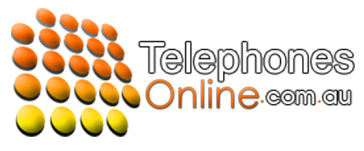 About TelephonesOnline
A premier business communications products, solutions, and systems supplier and wholesaler in Australia, Telephonesonline Pty Ltd has created its name and reputation with excellent offers and services throughout its 20 years of existence in the industry. The company has consistently performed excellently in the market and had enough years in the market to be knowledgeable and be an expert of the industry. This includes what phone products and services best go together and which items can be ideally put together to target a specific phone requirement.
Telephonesonline is an Australia-owned and –operated company. It is an expert in the Australian market and knows the market trends more than other companies. It completes transactions through its hotline and its company website. Deliveries are then completed with the help of several of the companies offices strategically located all over the country. This ensures that the deliveries are completed promptly and on time.

Talk to our experts to learn more. Dial our hotline now at Australia wide 1300 088 088!
Order today for FAST Delivery Australia Wide: Melbourne, Sydney, Brisbane, Queensland, Perth, Darwin, Canberra and Adelaide.
Customer Reviews
There have been no reviews for this product.