Cordless, Panasonic KX-TG1855ALS Stylish 1.8 GHz Phone -
Cordless, Panasonic KX-TG1855ALS Stylish 1.8 GHz Phone -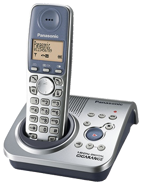 Details
Send to friend
Reviews
This model has been replaced by the KX-TG6521.
SINGLE 1.8GHZ WITH TAM [Model No: KX-TG1855ALS] Digital Answering Machine (20 minute recording) Handsfree speakerphone on Handset 50 Name & Number Phonebook Caller ID with 50 Name and Number call Log Multi - Handsets (upto 6) Features & Benefits 1.8 GHz Digital Gigarange Cordless Phone Panasonic's Digital Gigarange utilises digital radio technology, providing high speech quality & security, minimal risk of interference, longer battery life & greater coverage. Thereby offering the flexibility of a mobile for use around the home & small office. Digital Answering System Voice messages are recorded on a microchip for high quality sound. With no tapes to reset or rewind, operation is quiet & messages can be easily accessed. Caller ID* & Private Name Display The LCD displays the caller's name (service subscription required, or stored in directory) & number, so you can see who's calling or screen your calls.
Requires subscription to Caller ID Service. 50 Station Caller ID* Memory
Requires subscription to Caller ID Service Handset Speakerphone 200 Station Phone Book
The handset can store up to 200 names & phone numbers in its phone book. You just need to select a name or number from the phonebook to make a call. Multiple handset compatible (up to 6 handsets) Up to 6 handsets can be registered with a single base unit for added convenience. Optional Handset Available KX-TGA185AZS available in November 2007 Specifications Transmission Type Digitally Enhanced (DECT) GigaHertz Operating Frequency (GHz) 1.8 Max. number of Handsets up to 6 Number of Handsets Supplied 1 Caller ID Compatible Yes Call Waiting Caller ID Yes Talking Caller ID No Audible Caller ID No Caller ID Memory (Qty) 50 Customisable Caller ID No Light-up Indicator No SMS Compatible No Phone Book Memory Handset (Qty) 50 Phone Book Memory Base (Qty) 0 Phone Book Search Yes Phone Book Copy No SIM Card Reader No Voice Enhancer No Icon Operation No Hands Free Speakerphone on Handset Yes Hands Free Speakerphone on Base Station No Navigator Key Yes Dual Keypad (Keypad on Base Station) No Backlit Keypad on Handset/s No LCD Yes Backlit LCD Yes Night Mode No Private Ringing No Ringer Melodies (Qty) 10 Ringer Tones (Qty) 5 Ringer Tone on Handset Yes Ringer Tone on Base Station Yes Redial on Handset (Qty) 10 Redial on Base Station (Qty) 0 Auto Redial Yes Time/Date Display Yes Alarm Function Yes Any Key Answer Yes Intercom (Handset to Handset) Yes Intercom (Handset to Base Station) No Intercom Type Two-way Handset Locator Yes Headset Jack No Hearing Aid Compatible No Key Lock Yes Conference Call Function Yes Handset Standby Time (Hrs) 180 Handset Talk Time (Hrs) 17 Charge Time (Hrs) 7 Integrated Digital Answering Machine Yes Wall Mountable Yes Handset Height (mm) 155 Handset Width (mm) 48 Handset Depth (mm) 32 Handset Weight (g) 130 Base Station Height (mm) 54 Base Station Width (mm) 122 Base Station Depth (mm) 137 Base Station Weight (g) 210.
Customer Reviews
There have been no reviews for this product.