NEC SL1100 Telephone System with 6 Handsets
NEC SL1100 Telephone System with 6 Handsets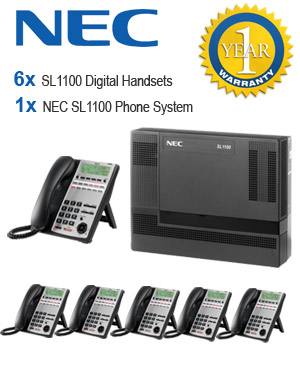 Details
Send to friend
Reviews
NEC SL1100 Telephone System with 6 x SL1100 Digital Handsets
A flexible and strong communication solution for growing businesses and those that are just starting up, NEC SL1100 telephone system offers its users incredible communication features to aid in their operations. Small and mid-sized businesses will benefit the most using this system, not only because of its capabilities and structures, but most importantly because of its low cost.
NEC SL1100 allows users to take advantage of versatile VoIP or digital system. It also includes effective features such as the auto-routing function and the built-in voice auto attendant.
Increase Productivity with NEC SL1100 Phone Solution
Inclusive of the NEC SL1100 Phone Solution are the following:
NEC SL1100 Phone System main unit
6x SL1100 Digital Handsets (12 Buttons)
4x Standard PSTN lines
4x Analogue extensions (fax, cordless,alarm)
4 Ports Voicemail
SL1100 phone system serves as a greattool for communication. It is especially built for small and growing businesses, with the combination of advanced voice response system and low cost. This is a great investment for these types of businesses.

For a quote, please call Australia wide 1300 088 088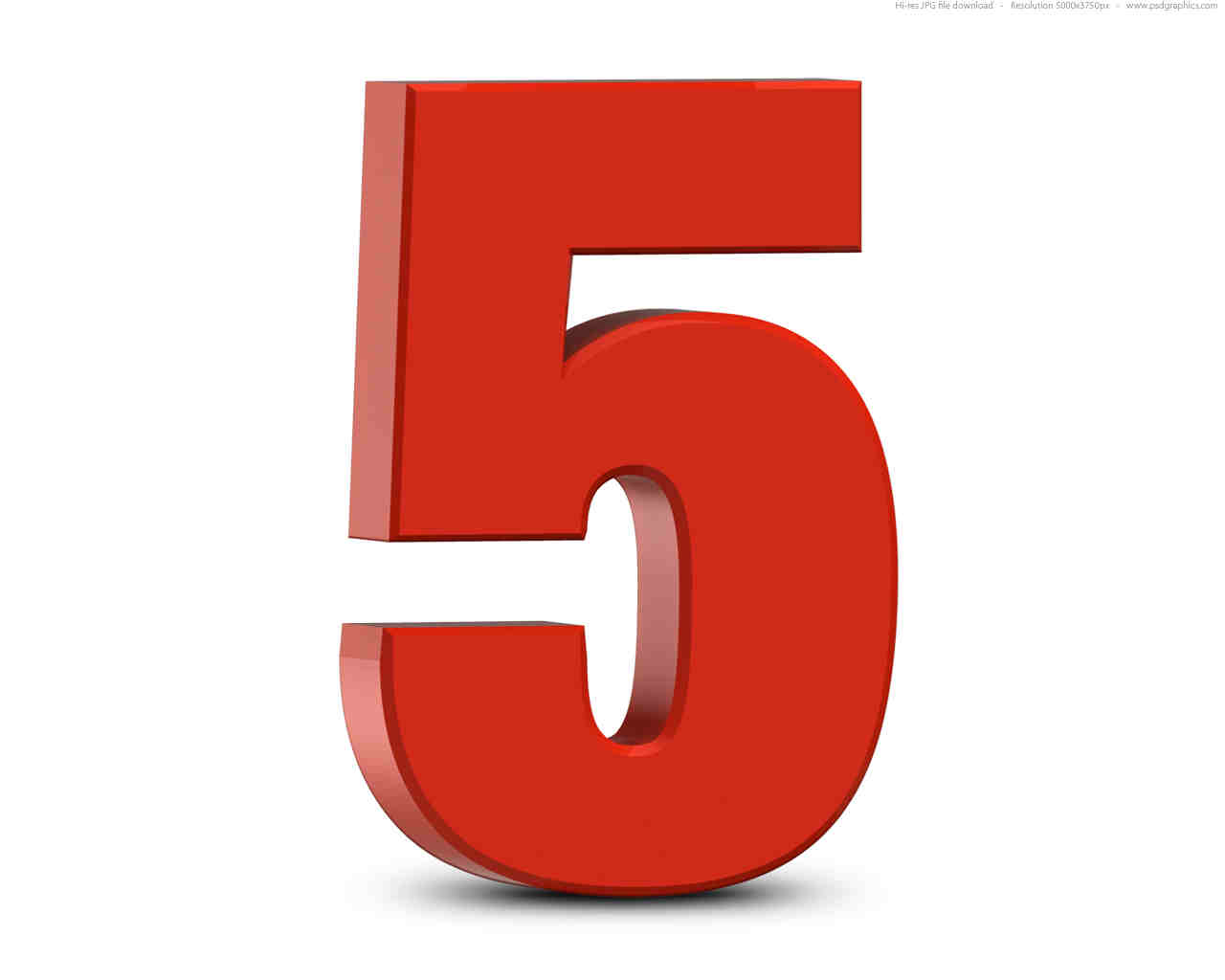 Benefits for Your Business
1# It lowers your business' operational costs.
It saves the trouble of spending on operational costs like more space for offices with the existence of remote or home office capabilities.
2# It improves team engagement andincreases employees' productivity.
With an excellent and simple communication tool, employees will be able to connect better with each other, increasing motivation and in the end the employees' productivity. Operations are expanded even when on the road.
3#It improves customer satisfaction.
An excellent communication solution will help businesses respond to customers more efficiently and effortlessly, improving customer service and boosting customer satisfaction.
4# It serves as an investment for your business.
With a communication solution that aids your business operations, it is more than just a purchase but more of an investment, with a solution customized exactly for your needs.
5# It simplifies the management of your business.
The communication solution offers excellent applications and features ideal for management uses. With excellent team management, it is an excellent tool for simplifying administration.
NEC SL1100: Powerful Time-saving Tool
Saves travelling time for business' employees with the existence of home and remote office setups
With excellent communication solution, crucial decisions are made faster and more efficient with better team engagement.
Work are finished faster with better collaboration between employees through the communication solution.
Helps your employees to check-in and provide updates without having to go to the office.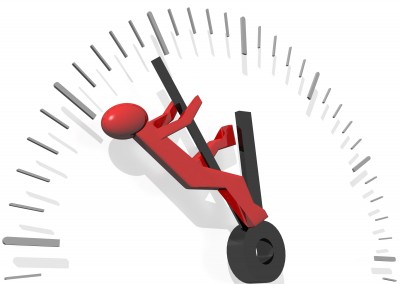 20 Excellent Features of NEC SL1100 Phone System
There are hundreds of features you can take advantage of through NEC SL1100 phone system. Some of these are:
Alarm Reports
Built-in Automated Attendant
Call Forwarding
Call Waiting
Caller ID
Clock/Calendar Display/Time and Date
Distinctive Ringing, Tones and Flash Patterns
Do Not Disturb (DND)
Ecologically Sound Power Saving Mode
Hotel/Motel Services
Hotline
InMail
Intercom
Mobile Extension
Name Storing
SL Desktop Suite
TAPI Compatibility
Traffic Reports
Trunk Queuing
Voice Mail Message Indication on Line Keys
10 Excellent Features of SL1100 Digital Handset
NEC SL1100 digital handset has several features for the users to take advantage of, including:
Adjustable angle
Backlit keypad and soft keys
Built-in wall mount kit
Dual-color call indicator lamp
Full Duplex Speakerphone
Power saving sleep mode
Programmable keys with LEDs
4 feature keys and navigation keys
20 number personal directory
1000 number system/group directory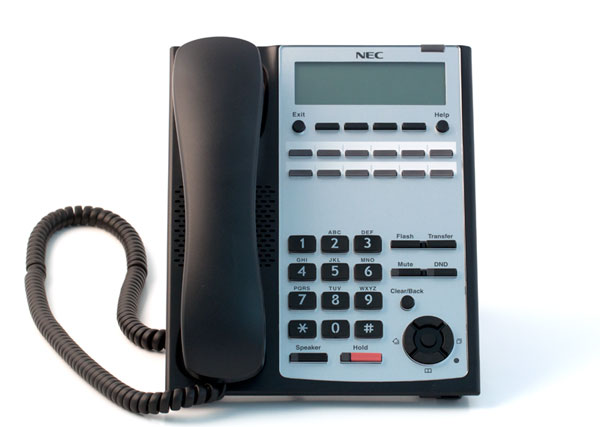 About NEC
NEC is an Australia-operated and –owned company that caters to all types of clients, from small businesses and home offices to medium and large corporations in need of communications systems for the operations of their businesses.
NEC is an expert of what small businesses' needs, which not every company focuses on since they would have to consider the customer's budget too. But that is not the only factor that a communications system should have. Besides its price being compatible to the customer's budget, the system should also be simple, reliable, have low maintenance cost, and worth your money. NEC knows how to provide and prioritize these factors to provide small businesses with what they need.
NEC does not only know what to offer but also have the right technology to create innovative products and systems for customers. With a stable technological foundation, you can be assured of its products' high quality and effectiveness.
About TelephonesOnline
Telephonesonline Pty Ltd boasts the high quality telephone systems that it offers. But more importantly, the company offers high quality communication systems at justified price. This is because of the customization service that the company offers for customers. By providing a solution that exactly caters to the customer's needs, the customer won't need to pay for something he does not need, even if just a little.
Telephones Online Pty Ltd is Australia's largest supplier of pre-owned, refurbished, and secondhand handsets and phone system equipment. The range of the products are also extensive. Some of the brands that the company offer are Alcatel, Avaya, Cisco, Commander, Coral Tadiran Telecom, Ericsson, Fujitsu, and LG Aria.
Telephonesonline can be reached through online or through one of the warehouses of the company like the Brisbane office at 6 Nunney Place, Carindale QLD 4152 or call 1300 088 088.

For a quote, please call Australia wide 1300 088 088

Customer Reviews
There have been no reviews for this product.