NEC IPK Phone system 4x PSTN Lines 12x NEC DTR 16 button Handsets - Refurbished Used Pre-Owned
NEC IPK Phone system 4x PSTN Lines 12x NEC DTR 16 button Handsets - Refurbished Used Pre-Owned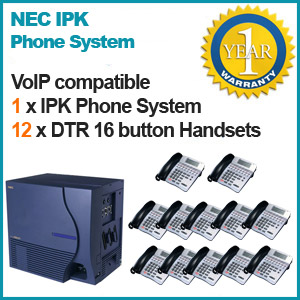 Details
Send to friend
Reviews
NEC IPK Phone system 4x PSTN Lines 12x NEC DTR 16 button Handsets
What you get:
1 x NEC IPK Phone system
12 x NEC DTR 16 Button Phone
4 x PSTN or BRI lines
Cables and user guides
12 Months warranty
Refurbished, Used, Pre-Owned condition
Efficient, Compact Design The Nec IPK phone system is a powerful key system that can meet the ever changing communications demands of current businesses. Its unique compact design allows the system to be easily and quickly installed. The telephone system can grow with your business. You can easily and economically increase port size when necessary.
NEC IPK Phone system 4x PSTN Lines 12x NEC DTR 16 button Handsets
The feature-rich Nec IPK phone system provides the basic telephone functions and supports the following:
Automatic Number Indication (ANI)/Caller ID
Automatic Route Selection (ARS)
Centralized Voice Mail Computer Telephony Integration (CTI)
Dialed Number Indication Service (DNIS)
Dterm Handset Cordless
Integrated Digital Voice Mail
ISDN-BRI and PRI Voice Trunks
LAN/KTS Cabling Integration
Least Cost Routing (LCR)
Live Monitoring
Live Record
Multiline Conference Bridge
Multilingual LCD Indication
Multiple Music on Hold using CO Interface
PC Attendant Console
Unified Messaging Uniform Call Distribution (UCD)
Voice over Internet Protocol Trunks (VoIP)
Wireless System
Optional 33.6 kbps Modem for Remote Programming and Maintenance
NEC IPK Phone system 4x PSTN Lines 12x NEC DTR 16 button Handsets
The Nec IPK are complete communications systems that enhance productivity and help control costs. The IPK design objectives were based on three Easy to Install, Easy to Maintain and Easy to Use -- all at a reasonable price. The IPK phone system, like all NEC communications products, is user-friendly, reliable and cost-effective. Built for long-term growth and migration, the system is designed for small businesses who are on the move and those who don't intend to stay small for very long. It comes loaded with productivity-driven features that emulate the capabilities of much larger systems.
NEC IPK 16 Button Display Handset: quality refurbished phone
16 button display
16 programable keys for lines, direct station selection (DSS) / busy lamp field (BLF) or one-touch feature access
3 line LCD display
2 colour LEDs immediately indicate call status
Handsfree operation for all calls
Softkeys correspond to a set of functions that display on the LCD and these can change according to the state of the telephone
Earth friendly recycled phones: Why choose a refurbished phone?
If your choice is to purchase a second hand phone handset, you'll be making substantial savings as well as helping our planet with recycling goods that may well have ended up as landfill. All phones have been cleaned and tested, so they look and feel like new!
Please call for a quote on install Australia wide 1300 088 088
Order today for
FAST Delivery Australia Wide

: Melbourne, Sydney, Brisbane, Queensland, Perth, Darwin, Canberra and Adelaide.
Customer Reviews
There have been no reviews for this product.