Ericsson W35 GSM/3G Broadband router and phone system
Ericsson W35 GSM/3G Broadband router and phone system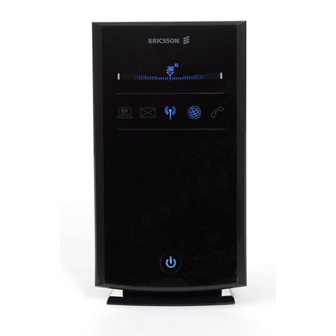 Details
Send to friend
Reviews
Outstanding
The Ericsson –W30/35 – is the natural choice for providing fixed services to residential users, small office or home office businesses. It offers a highly cost efficient and flexible solution utilizing an existing WCDMA/HSPA network, especially in locations that lack fixed communication infrastructure.

These state-of-the-art WCDMA/HSPA terminals with integrated design for high quality and performance support the major deployed communication standards. The W30/35 terminal offers broadband, voice and fax capabilities.
Inspired
With the voice quality equivalent to that of a standard fixed line, broadband data connectivity for Internet access with "Always connected" capability, telephony interface and fax support on W35, for pure data application the W30 is the definitive choice.

The benefit of the Fixed Wireless Terminal is that it provides wired or wireless connectivity options to the user. Additionally, the Fixed Wireless Terminal enables the possibility of simultaneous HSPA data access for multiple users. Thanks to the W30/35's integrated WLAN access point, WLAN enabled PC's can be located at a distance from the W30/35 thus giving the user local mobility.

The simplicity of the W30/35 enables the installation to be carried out in a matter of minutes by the end user.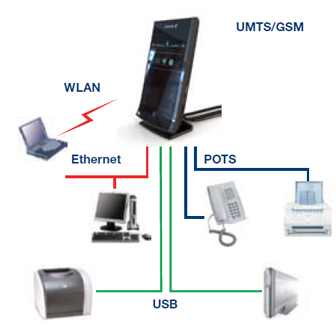 Features:


WCDMA/HSPA Frequency Support, Tri-band – 850/1900/2100MHz
HSPA, Category 1-8 and 11/12, up to 7.2 Mbps(downlink) and Category 2 and 5, up to 2.0 Mbps(uplink)
WCDMA, up to 384 Mbps
GSM/GPRS/EDGE Frequency Support, Quad-band – 850/900/1800/1900 MHz
EDGE, multi-slot class 10 (4+1, 3+2) up to 237 kbps(downlink)
GPRS, multi-slot class 10 (4+1, 3+2) up to 86.2 kbps(downlink)
One USB 2.0 port (Print server or Mass storage)
Wireless LAN Access Point IEEE 802.11 b/g
Four ports Fast Ethernet switch (RJ45)
Protocols

Routing, NAT, ALG, DHCP Server/Relay and DNS Server

Security

Internet security: Firewall
VPN termination
Wireless security: WEP, WPA/WPA2

Analog Fax connectivity (RJ11) using T.38, only W35
Telephony access (RJ11), only W35
Battery backup capability (W35 voice operation only)
Automatic Software and configuration update
User-friendly Web interface
Remote Management capability
Accessories:

Indoor/Outdoor window mounted omni-directional antenna
Outdoor roof mounted directional antenna
Surge Protector
Battery pack
Product Kit:

W30 unit , data only terminal or W35 unit, data and voice terminal
AC/DC Power supply
Ethernet cable (3.0 m)
Quick Installation Guide
CD with User Guide
Customer Reviews
There have been no reviews for this product.