Engenius 10 IP lines + 1 pstn line SIP SP935 base unit & SP935-SIP HC- 4 concurrent calls - works behind all popular brands of IPBX systems and hosted solutions. 1 base + 1hs and charger. One long and one short antenna
Engenius 10 IP lines + 1 pstn line SIP SP935 base unit & SP935-SIP HC- 4 concurrent calls - works behind all popular brands of IPBX systems and hosted solutions. 1 base + 1hs and charger. One long and one short antenna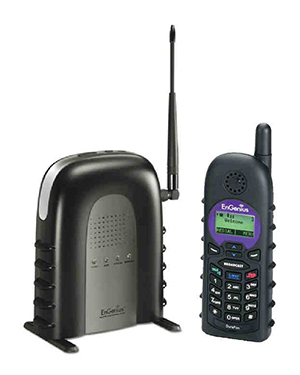 Details
Send to friend
Reviews
10 IP Lines + 1 PSTN Line SIP SP935 Base Unit & SP935-SIP HC- 4 Concurrent Calls- Works Behind All Popular Brands of IPBX Systems and Hosted Solutions. 1 Base + 1HS and Charger. One Long and One Short Antenna
The EnGenius Durafon SP935-SIP 10 Line is an industrial long range SIP cordless phone system that has line of sight range reaching up to 10 kilometres. The system can support most 10 handsets and 10 SIP accounts.
The EnGenius Durafon SIP is a ground-breaking cordless phone system that provides crystal clear and smooth communication environment over long distances, requiring the use of multiple handsets in order to work effectively. This long range cordless telephone is specifically ideal to business environments including:
Nurseries
Car and Truck Rental Lots
Storage Facilities
Caravan Parks
Farms
Marinas
Large Campus Environments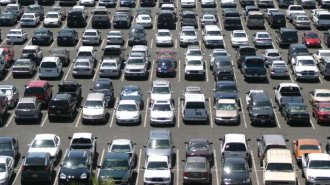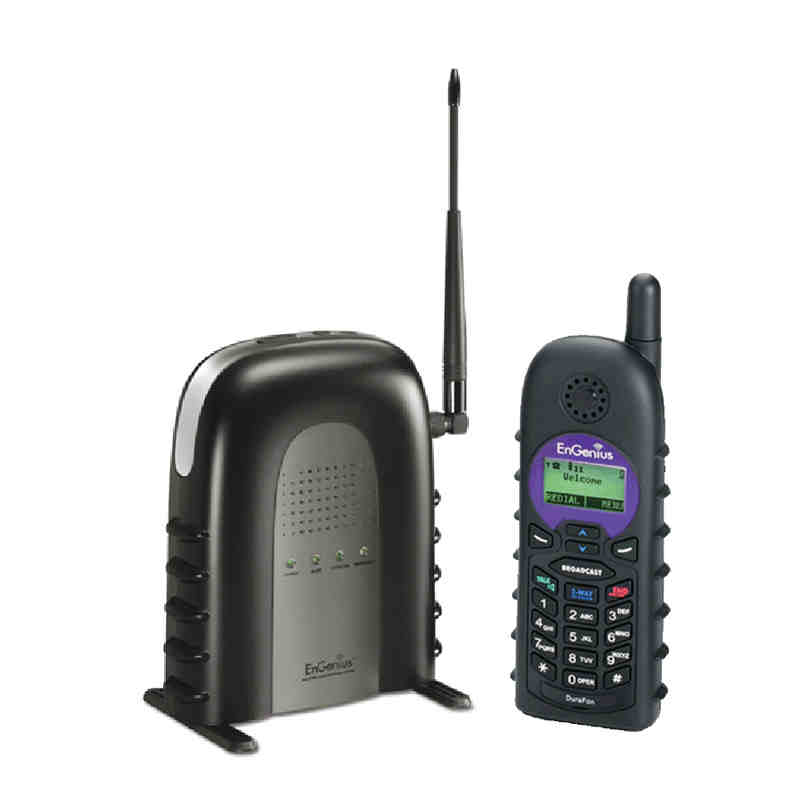 The EnGenius Durafon SP935-SIP 10 Line is a user-friendly communication tool that showcases freedom, flexibility, and mobility. It contains efficiently convenient features that users could take advantage of, whatever size their businesses may be. The entire system could also be customised depending on the specific needs and exact requirements of the customers.
This package includes:
1x SIP SP935 Base Unit
1x SP935-SIP Handset
1x Charger
1x Short Antenna
1x Long Antenna
Reminder: There is an expensive range of accessories that could be partnered with the
EnGenius solution in order to customise the entire system based on your exact communication requirements. The accessories across the entire EnGenius range is similar but the based and handsets could be considered specific to their own models.
Features of the EnGenius Durafon SP935-SIP 10 Line Long Range Cordless Phone
The EnGenius Durafon SP935-SIP is an excellent and durable long range cordless telephone that works with any IP-PBX, supporting the SIP Protocol Standards. It can easily be used as a hosted system and can be a multi-base setup behind PBX systems. A phone system that could penetrate to at most 12 floors of building, the features it boasts include the following:
250,000 M2 of Facility Coverage, 20,000 Hectares of Property, Open Land Coverage
Base Supports up to Four (4) Concurrent Calls (4-SIP OR 3-SIP+1 PSTN)
Compatible with ALL Popular IPBX Systems
Direct Indial for up to 10 Handsets
Independent 2-way Intercom "Push-to-Talk" (PTT) Broadcast Feature
Interchangeable Accessories
Proven Durability with Ruggedized Design
Ruggedized Handsets Design
Standard or Industrial Handset Option

Dial the Australia wide 1300 088 088 and talk to us about your concerns!


About EnGenius Technologies, Inc.
The EnGenius Technologies, Inc. is an established company that offers high powered and long range wireless solution for businesses in whatever industry they may be under. The company has especially focused on industries that would require communication devices, which are made from sturdy materials. It also offers three important values that businesses require nowadays, including penetration capability, sensitivity, and stability. These factors are considered important when it comes to having a competitive edge in the industry and succeeding beyond measure.
EnGenius is a front-runner in wireless technology and was able to make sure to stay ahead and remain updated with the current demands and trends in the market. Because of staying connected, the company was also able to come up with high quality products and services that its customers can make the most out of. Included in the company's portfolio are the following:
Enterprise-class Wireless Communication Systems • Long Range Cordless Phones • Network Servers • Security Products • Digital Wireless Network Cities Wireless Mesh Networking • End-user Wireless Network Products
About TelephonesOnline
Telephonesonline is an Australia-owned and –operated telecommunication company, which is also an expert in wholesaling business communication products and services all over the country. Being at the top of the industry means that the company has learned all the twists and turns in the industry, including the trends and demands of the market. Besides being knowledgeable with whatever communication needs customers may have, it is also well-updated with every street in the country, enabling prompt and efficient delivery to its customers.
Telephonesonline Pty Ltd boasts the top-notch quality of products and services that the company offers, as well as the competitive pricing that they provide their customers. The competitive prices are ensured through refurbished and second-hand VoIP and IP phones, which also means that the company is able to provide to businesses of all sizes, from small and home offices to large corporation with a complicated organizational hierarchy. If you are interested in finding out more about the products and services of the company, visit their Perth Office at 1/36 Irvine Drive Malaga WA 6090.
Customer Reviews
There have been no reviews for this product.