Telephone Ringing Voltage Detection with Relay Alarm Contacts and FET programmable output connections
Telephone Ringing Voltage Detection with Relay Alarm Contacts and FET programmable output connections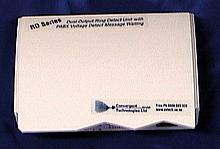 Details
Send to friend
Reviews
Telephone Ringing Voltage Detection (With Relay Alarm Contacts and FET Programmable Output Connections)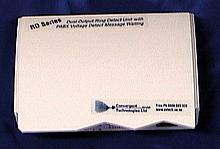 The Telephone Ringing Voltage Detection is integrated with Relay Alarm Contacts and FET Programmable Output Connections. The Relay Alarm Contacts and Power FET can both follow ringing cadence or hold between ring cycles. The Relay can also be disconnected via a link so as only FET can control the switch, giving totally silent switching for radio station hotlines.
Used to drive users' own external devices, the Telephone Ringing Voltage Detection is integrated with built-in PABX message waiting detect. With the PABX message waiting facility, it can be used in enterprises and establishments like hotels and call centres for easy solution to advise supervisor and other responsible people that calls are being missed.
Adjustable 65Vdc to 100Vdc simultaneously, the Telephone Ringing Voltage Detected is offered for practical reasons. It can have Strobe Continuous Power Drive State that is activated during cycles and sounder Ringing with the Ring Cadence at the same time. POTS or PABX Hold are also available and can be controlled between ring cycle periods selectable.

CallTelephonesonline at Australia wide 1300 088 088 and find out more information about the product!
Telephone Ringing Voltage Detection Features to Take Advantage Of
Telephone Ringing Voltage Detection with Relay and FET Programmable Output
Message Waiting Detection [Voltage Detection on PABX Systems Only]
Relay and FET Reverse Role
Power Supply Excluded
12 to 48Vdc Operation and Switching
Slave Relays for Larger Loads
Easy Wiring
Optional: Built-in 10-sec Time Delay
Optional: Built-in PABX Message Waiting Detect
For Sounder or Light/Strobe Options: Power FET Output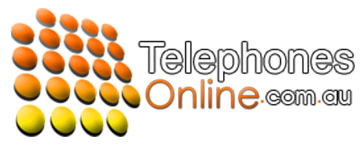 About TelephonesOnline
Telephonesonline Pty Ltd isthe largest one among all online stores operating in Australia. And this label will tell you that the company has an extensive and wide range of product portfolio that it offers the market. This portfolio also allows the company to cater to all types of customers, whether they are individuals putting up their own SOHOs or they are small enterprises to large corporations that have been operating for years. This portfolio is composed of the following communication products:
Corded and Wireless Headsets ● Corded, Cordless, and Wireless Phones ● Full Range of Cordless Phone Systems ● Conference Phones ● Door Phones ● Payphones ● Spare Phones for All Systems ● Supply of Spare Parts
Telephonesonline is also a great provider of tech support and services that can back up the companies communication products like data cabling, line fixing, free phone support, least cost routing with GSM gateways, and the installation and relocation of phone systems.

To make a quote inquiry, please call Australia wide 1300 088 088
Order today for FAST Delivery Australia Wide: Melbourne, Sydney, Brisbane, Queensland, Perth, Darwin, Canberra and Adelaide.
Customer Reviews
There have been no reviews for this product.