Secondhand - Refurbished Nec Xen Axis Telephone System, 8-16 Lines, Up to 20 Digital Handsets
Secondhand - Refurbished Nec Xen Axis Telephone System, 8-16 Lines, Up to 20 Digital Handsets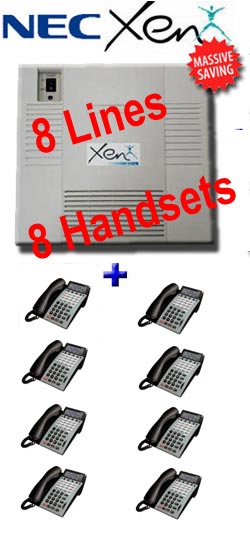 Details
Send to friend
Reviews
Secondhand SUPER PACK Business Phone System DEAL!
8 Lines + 8 Handsets (NOTE : INSTALLTION NOT INCLUDED)

1 x Refurbished NEC Xen Axis configured for 8 Lines, 16 Digital extensions with 8 x NEC Xen 16DTU telephone handsets
The Xen Axis Phone system is designed and manufactured by NEC, so quality and reliability are built right in.
NEC Xen Axis Capacity

Ports

48

Outside Telstra Lines

16

Digital Handsets

32

Reception Modules

4

Single Line Telephones

24

Speed Dialing

1000 system or 100 (80 system & 20 per station)

Battery Backup Standard

20-30 minutes

Integrated Voicemail Xen Mail

2, 4 or 8 ports

Door phones

4

External paging

Yes

MOH Port

Standard
4 Soft Function keys (System dependant)
16 Programmable keys
Adjustable 3 line LCD display
Hands-free operation
Inbuilt Headset jack
Message waiting light
Available in white or black colour
The Nec Xen Axis are complete communications systems that enhance productivity and help control costs. The Xen design objectives were based on three Es -- Easy to Install, Easy to Maintain and Easy to Use -- all at a reasonable price. The Xen Axis phone system, like all NEC communications products, is user-friendly, reliable and cost-effective. Built for long-term growth and migration, the system is designed for small businesses who are on the move and those who don't intend to stay small for very long. It comes loaded with productivity-driven features that emulate the capabilities of much larger systems.
Efficient, Compact Design The Nec Xen Telephone system is a powerful key system that can meet the ever changing communications demands of current businesses. Its unique compact design allows the system to be easily and quickly installed. The system can grow with your business. You can easily and economically increase port size when necessary. The feature-rich Nec system provides the basic telephone functions and supports the following:
Features Xen Axis NEC Phone System
Automatic Number Indication (ANI)/Caller ID
Automatic Route Selection (ARS)
Centralized Voice Mail
Computer Telephony Integration (CTI)
Dialed Number Indication Service (DNIS)
Dterm Handset Cordless
Integrated Digital Voice Mail
ISDN-BRI and PRI Voice Trunks
LAN/KTS Cabling Integration
Least Cost Routing (LCR)
Live Monitoring
Live Record
Multiline Conference Bridge
Multilingual LCD Indication
Multiple Music on Hold using CO Interface
PC Attendant Console
Unified Messaging
Uniform Call Distribution (UCD)
Voice over Internet Protocol Trunks (VoIP)
Wireless System
Optional 33.6 kbps Modem for Remote Programming and Maintenance

Automated attendant
Automatic call distribution
Background music
Battery backup
Calling Line Identification - PSTN & ISDN
Computer Telephony Integration
Conference call add on
Direct inward dialing
E&M tie lines
External paging
ISDN basic rate
ISDN primary rate
Integrated digital voicemail
PC Programming
Power fail transfer
Single line telephone adaptor
Station message detail recording
Trunk to trunk transfer
Uniform call distribution
The
Nec Xen phone system
offers a variety of Multiline telephones that are compatible with the system, available in 8-line, 16-line and 32-line capacities and offered as display and non-display terminals. A 2-line non-display Multiline handsets and a 60-line Attendant Console are also available. If a customer already has existing Nec handsets, these can be easily connected to the Xen phone systems, providing inexpensive migration. Most of the Xen system features are available with the Multiline telephone handsets. The Nec Xen phone system supports a wide range of additional equipment that can be connected to the system to accommodate individual customer needs.
Nec Xen Telephone handsets
Xen telephone handsets are available in black or white: 8-line display or non-display type, 16-line display or non-display type, and 32-line display or non-display type. A 2-line non-display terminal is also available in white. Speakerphones are standard, providing full handsfree operation.
All Xen phones have a built-in headset jack. The large Liquid Crystal Display (LCD) on the display terminals provides call status data and programming information. The display terminals have four softkeys. For Attendant Positions, up to four Attendant Consoles are available, each providing 48 station and/or outside line assignments and 12 function keys. An SLT Adapter can be used in place of a digital terminal for connecting Single Line Telephones, or similar devices.
Additional Equipment
Additional equipment such as: Single Line Telephones, external speakers, voice mail or facsimile machines can be connected to enhance the abilities of the Nec Xen series.
Nec Xen Benefits
Designed for Expansion
The Nec Xen phone system is a powerful key system that can meet the ever-changing communications demands of businesses. Its compact design allows the system to be easily and quickly installed. The Nec Xen phone system can grow with your business. The Xen axis 48 port is an ideal choice for an initial key telephone system. As your needs grow, the system can easily migrate to a Xen master for a total of 192 ports, while almost all your existing hardware and phones remain in place.
Easy to Install
With the Nec Xen phone system, NEC has reduced the number of hardware components, making the system easier to install. Only 1-pair wire is required to connect telephones. This system provides Windows 2000 / XP Pro based PC programming with a menu-driven guide to both simplify and speed installation. All programming information and station labels can be printed as they are completed. For further convenience and versatility, end-user programming is provided for up to approximately 35 features.
Easy to Maintain
If system memory failure occurs, PC Programming software can be used locally or from a remote location to upload/download all system data. Each interface Electronic Telephone Unit (ETU) except those required to sustain system operation (e.g., CPU, ACD, IPT, VMS) can be installed or removed (hot swap) without shutting down the system. Other considerations for easy maintenance include:
Easy to Use
The Nec Xen system is Centrex compatible to allow maximum flexibility and ease of use. One-Touch key access can be programmed for most features, including Centrex options and Speed Dial abilities. A voice prompt can be provided to help users make calls. Voice Mail integration, Automated Attendant and personalized messaging all give the system that personal touch so important in a well-run business. Most communication equipment can be connected to this system, including facsimile machines and modems. The user-friendly, cost-effective programs can be updated with future enhanced system upgrades, minimizing confusion about software levels, documentation and configuration requirements.
Customer Reviews
There have been no reviews for this product.