CISCO PHONE CP-7906G Network products by Cisco Systems
CISCO PHONE CP-7906G Network products by Cisco Systems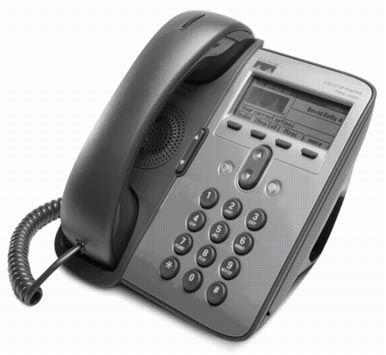 Details
Send to friend
Reviews
CISCO PHONE CP-7906G Network Products by Cisco Systems
The Cisco IP Phone 7960G, a key offering in the IP Phone portfolio, is a full-featured IP phone primarily for manager and executive needs. It provides six programmable line/feature buttons and four interactive soft keys that guide a user through call features and functions. Audio controls for duplex speakerphone, handset and headset. The Cisco IP Phone 7960G also features a large, pixel-based LCD display. The display provides features such as date and time, calling party name, calling party number, and digits dialled. The graphic capability of the display allows for the inclusion of such features as XML (Extensible Mark-up Language) and future features.
The Cisco IP Phone 7960G can also receive power down the LAN from any of the new Cisco inline power-capable blades and boxes. For added security, the audible dual-tone multi-frequency (DTMF) tones are masked when the speakerphone mode is used. Other Cisco IP Phone 7960G features include:
24+ user-adjustable ring tones
A hearing-aid-compatible handset (meets American Disabilities Act [ADA] requirements) and HAC compliance for magnetic coupling to approved HAC hearing aids
G.711 and G.729a audio compression
H.323 compatible and Microsoft NetMeeting compatibility
An IP address assignment-DHCP client or statically configured
Comfort noise generation and voice activity detection (VAD) programming on a system basis
EIA/TIA RS-232 port for future add-on options such as line expansion, security access, and more
The phone also includes the following settings:
Display contrast
Ring type
VOIP Protocols Supported: SCCP, SIP, MGCP
VOIP Protocols Installed: SCCP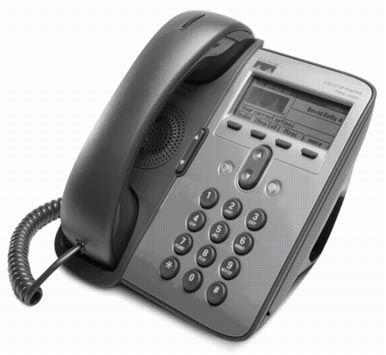 Network configuration
Call status

Dial the Hotline of Telephonesonline at Australia wide 1300 088 088
Features of the Cisco 7960G Phone for Users to Explore
The Cisco 7960G is dynamic and designed to grow with system capabilities. Features will keep pace with new changes via software updates to the phone's flash memory. The phone provides many accessibility methods according to user preference. Various methods or paths include buttons, softkeys, a navigation key, and direct access with the use of corresponding "ghost" digits. Each of the features below will have expanded capabilities in the future:

Messages. Direct access to voice mail. In the near future voice mail speech to text readout on the display.

Directories. The Cisco IP Phone 7960G identifies incoming messages and categorizes them for users on the screen. This allows users to quickly and effectively return calls using direct dial-back capability. The corporate directory integrates with the Lightweight Directory Access Protocol (LDAP3) standard directory.

Settings. The Settings feature key allows the user to adjust display contrast and select from a large of unique ringer sounds, volume settings for all audio such as ringer, handset, headset, and speaker. Network Configuration preferences can also be set up. (Network configuration is usually set up by the System Administrator.) Configuration can either be automatic or manually set up for Dynamic Host Control Protocol (DHCP), Trivial File Transfer Protocol (TFTP), CallManager, and backup CallManagers. A huge advantage is the ability for no hands on moves and changes. Just pick up the phone and move to the new location anywhere on your network. No system administration is required.

Services. The Cisco 7960G allows users to quickly access diverse information such as weather, stocks, quote of the day, or any Web-based information using extensible mark-up language (XML) to provide a portal to an ever-growing world of features and information.

Help. The online help feature gives users information about the phone's keys, buttons, and features. The pixel display allows for greater flexibility of features and significantly expands the information viewed when using features such as Services, Information, Messages, and Directory. For example, the Directory button can show local and server-based directory information.

The Cisco IP Phone 7960G features high-quality, speakerphone technology. It also includes an easy-to-use speaker on/off button and microphone mute buttons. These buttons are lit when active.
The internal Cisco two-port Ethernet switch allows for a direct connection to a 10/100BASE-T Ethernet network via an RJ-45 interface with single LAN connectivity for both the phone and a co-located PC. The system administrator can designate separate virtual LANs (VLANs) (802.1Q) for the PC and Cisco IP Phones providing improved security and reliability of voice and data traffic.
A dedicated headset port eliminates the need for a separate amplifier when using a headset. This allows the handset to remain in its cradle, making headset use simpler. The Cisco IP phone's convenient volume control button provides for easy decibel-level adjustments for the speakerphone, handset, headset, and ringer. The handset is ADA and HAC compliant with a maximum handset volume of 13 dB. New 508 capability can be achieved using an in-line handset amplifier such as Walker Equipment W-10 and CE-100 amplifiers.
The dial pad is also ADA compliant
The foot stand of the Cisco 7960G is adjustable from flat to 60 degrees to provide optimum display viewing and comfortable use of all buttons and keys. The foot stand is keyed to match standard wall jack configurations for wall mounting. Two optional wall mount brackets are also offered as noted below.
About Cisco Systems, Inc.
The Cisco Systems, Inc. was established in the year 1984 in San Francisco, California, by Leonard Bosack and Sandy Lerner. Currently, the company is ran by its CEO Chuck Robbins and the Executive Chairman John Chambers, with its headquarters in San Jose, California. With over 70,000 employees working under the multinational technology company, Cisco was able to conquer the world of internet networking, with the Cisco system supporting, managing, and operating 85 percent of the internet travel for various business systems around the world. Some of the products from the company include:
Cisco IOS and NX-OS Software
Datacentre
Interface and Module
Networking Device
Network Management
Optical Networking
Security Products
Storage Area Networks
Telepresence
VoIP
Wireless Products
One of the most important communication aspects that Cisco focuses on is collaboration solutions. Cisco provides an extensive portfolio of collaboration products capable of integrating data, mobile, video, and voice applications on all ranges of devices and mobile networks.
About TelephonesOnline
One of the top-notch supplier and wholesaler of business communication products, solutions, and services in Australia, Telephonesonline Pty Ltd is a frontrunner in helping many businesses have a smooth communication system for their professional operations. The company is at the top of the industry, together with its 20 years of experience offering high quality products and solutions, as well as excellent services to go with them. All of the years that the company operated in the market helped it to gather enough intel on customers' demands and market trends. In addition to that, Telephonesonline is also knowledgeable about all of the streets, alleys, and places in the country that it can deliver products and services to customers, wherever they may be, efficiently and promptly. One thing that also extremely helps is all of the offices and warehouses scattered all around the country.

Dial the Hotline of Telephonesonline at Australia wide 1300 088 088
Order today for FAST Delivery Australia Wide: Melbourne, Sydney, Brisbane, Queensland, Perth, Darwin, Canberra and Adelaide.
Customer Reviews
There have been no reviews for this product.