Avaya - IP500 Office Trunk Analog 4 UNI
Avaya - IP500 Office Trunk Analog 4 UNI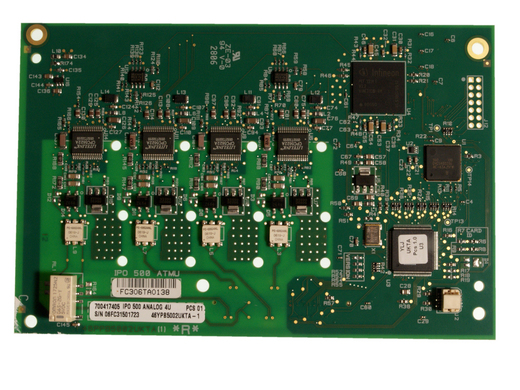 Details
Send to friend
Related
Reviews
Avaya - IP500 Office Trunk Analog 4 UNI
The
Avaya IP Office 500
- Trunk Card Analogue 4
(

Part number: 700417405) can be added to an IP500 base card (can be fitted to any IP500 base card except the IP500 Legacy Carrier card and IP500 4-Port Expansion card) to provide with support for 4 loop-start analog trunks (provides 1 analogue V.32 modem)

.
*
compatible with
these revisions of IPO software: IP Office 6.1 - Must have a minimum software level of 6.1(20), IP Office 7.0 - Must have a minimum software level of 7.0(12), and IP Office 8.0 or higher (

not compatible

with the IP412)
*
requires
an IP500 Digital Station 8, Analog Phone (2 or 8 port) card, ETR 6, TCM 8, VCM 32, or VCM 64 base card with empty daughter card slot
Or Avaya IP Office 500 - Trunk Card Analogue 4 functions as an attachment to other IP500 base cards (base cards that support daughter cards - no restrictions on the combination of card types) to optimize their performance by increasing their functionality.
*
in systems with both Analogue Phone 8 base cards and analogue trunk daughter cards, combining both types is recommended as it then provides analogue power failure support for 1 trunk or extension (

not applicable

to the Analogue Phone 2 base card).
Note
: The Daughter card uses the ports provided on the base card for cable connection - addition of an IP500 daughter trunk card is supported on IP500 Digital Station, IP500 Analogue Phone and IP500 VCM base cards.
Avaya - IP500 Office Trunk Analog 4 UNI
Part# 700417405
Customer Reviews
There have been no reviews for this product.