Avaya - IP500 IP Office, IP500 Phone 2 Extension Card - BASE CARD
Avaya - IP500 IP Office, IP500 Phone 2 Extension Card - BASE CARD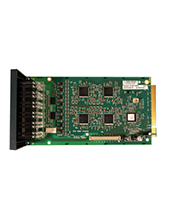 Details
Send to friend
Related
Reviews
Avaya IP500 Phone 2 Extension Card Base Card
This extension card can allow for the connection of two additional analog stations for Avaya IP500 systems. You can add a range of analog instruments, from telephones to fax machines and speakerphones.

Features:

2 analog extension ports

Occupies 1 slot on the IP500 chassis

Supports 1 daughter card for digital or analog trunks

Can be fitted with an IP Office 500 daughter trunk card that uses an additional 4 ports for connections

Compatible with:

IP500 Control Unit running IP Office R5.0 or higher

IP500 V2 Control Unit running IP Office R6.0 or higher

IP Office Partner Version

Analog telephones

Optional IP500 trunk interface cards (Analog Trunk 4, Universal PRI1, Universal PRI2)

Not compatible with the IP412

Note: The Avaya IP Office 500 Phone 2 Card is used to add analog phone ports to an IP500 and IP500 V2 control unit. It's available in two types that can offer either 2 or 8 analog extension ports, and features 12 RJ45 ports - the first two are analog extension ports for telephones and there are an additional 4 ports for use with IP500 trunk interface cards/the last RH45 ports for trunk connections.
Customer Reviews
There have been no reviews for this product.