Commander REFURBISHED business telephone System - 4 Line, 6 Digital Handsets
Commander REFURBISHED business telephone System - 4 Line, 6 Digital Handsets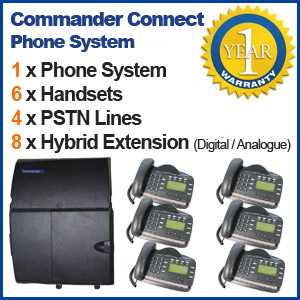 Details
Send to friend
Reviews
USED Commander Small Business Phone System - Office in a Box
(4 Lines 6 Handsets, including Music onhold Connection ) - You Can also connect a Voip Phone Line to this Small Office in a Box Telephone system.
HURRY!!! for limited time only.
This System can Have up to ( 4 Lines 8 Digital Handsets, or 8 Normal Telephone handsets including fax, cordless, and ansering machine, Music onhold Connection )
Supply of USED and Refurbished Commander Telephone System as detailed below:
1 x Commander 408 Main Equipment
4 x PSTN Incoming Lines
8 x Digital Extension Ports
8 x Analogue Extension Ports
Selection of Digital Hands free Display Handsets


1 x LIU music on hold interface (music source not supplied)
Please note*******
INSTALLATION NOT INCLUDED, We can Orginise Australia Wide Install and Cabling if you Require

Selection of Digital Hands free Display Handsets

1 x LIU music on hold interface (music source not supplied)
This system can easily accommodate cordless phones, fax machines & Eftpos The Commander is easy to use and grow with one touch button that can be programmed for the features you'll need all the time. Accessing multiple features is a breeze with "Help" prompts that magically guides you through during each stage of your call. With a proven record of reliability and extensive experience, Aristel now brings you the cost effective digital Telephone Systems that have the same powerful features of the Commander Easy to install and use with advanced digital functionality. Commanderis perfect for any small to medium business.
The Commander Connect phone system is one of Australia's most popular phone system for small to medium enterprises. Commander sold in excess of 28 000 systems in australia over the last 8 years. This Commander Connect phone system comes ready for 4 incoming PSTN or ISDN lines and up to 8 standard handsets. Extra modules can be purchased from Telephones Online Pty Ltd. Commander Connect phone system comes fully tested and more importantly this system comes with a Australia Wide 12 month Warranty provided exclusively by Telephones Online Pty Ltd.

Features of Commander Connect 8 Button Handset 760/40 :
Large Display
Data socket (underneath)
Headset socket (underneath)
Mute key
8 Programmable keys
Numeric keypad
Hands free key/ light
C-key
Volume keys
Scroll/edit keys
Function keys:
Display keys
Message waiting/ringing indicator
Benefits of Commander Connect phone system:
Selecting from analogue telephones or a choice of 2 digital stations saves you money, ensuring you're not paying for more features than you need.
The Connect becomes a hub for all your Communications equipment, rationalizing your network line rental costs.
Account coding allows all calls to be tracked for client billing purposes.
Modular system design allows you to only pay for what you need now, with the capability to enhance & grow the system as you need to.
Networking your computers and your phone system with one set of equipment allows you to share lines between internet and voice functions*. * Requires optional Internet Module. The Internet Module is not available on the Compact platform.
Features of Commander Connect Telephone System
account codes
(optional and forced) > ADSL > advisory messages
auto answer > auto attendant > background music (external)
backlit display > battery backup > call barring
call deflection > call elapsed timer > caller line identification (CLI)
call forwarding > call logging > call park
call pick-up groups > call restriction > call waiting indications
camp on busy > central bell connection > conference
standard courtesy service > direct station selection > divert on no answer
divert to > do not disturb > door station > dual colored LEDs
extension lock > external call transfer > external divert on busy
external music on hold > external paging > firewall
flexible extension numbering > general call > hot line > hunt groups
hybrid ports > inbuilt music/tone on hold > integrated answering machine
ISDN ISP dial-up > last number redial > least cost routing > Local Area Networking
multi-user internet access > night service > phantom mailboxes > power fail telephone
reminder call > remote access > reset phone > speed dialling
time/date display > voicemail > weekend service
Optional Upgrades available such as:
Music on Hold
Voicemail
Auto Attendant
Voip Channels
IP Extensions
Basic Rate ISDN
Primary Rate ISDN
Direct Extension Indial
Commander Connect Phone System 6 Handsets 4 PSTN Lines and 8 Extensions.
The Commander Connect Digital phone system is one of the top model systems that had been offered by Commander Australia. Commander offered a great System Brand new, now Telephones Online Pty Ltd is offering a great system in refurbished condition.
Supply of USED and Refurbished Commander Telephone System
Order today for
FAST Delivery Australia Wide

: Melbourne, Sydney, Brisbane, Queensland, Perth, Darwin, Canberra and Adelaide.
Customer Reviews
There have been no reviews for this product.