Avaya IP500 Phone System with 4 Handsets
Avaya IP500 Phone System with 4 Handsets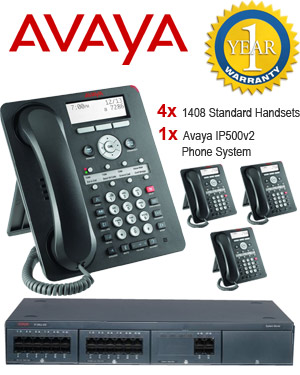 Details
Send to friend
Reviews
Avaya IP500 Phone System with 4 Handsets
Ideally made for small businesses in any industry, the Avaya IP500 Office Phone System is an exceptional communication tool that will serve as the basis of a company's office solutions. It makes sure that small businesses take advantage of routing and call handling functionality, improving their operations more efficiently and effectively. This is an essential instrument to enhance the operations of companies through streamlining their operations.
Avaya IP500 Phone System includes the following:
Avaya IP 500 Office Phone System Main Unit
4x Standard PSTN lines
4x Digital Extensions
2x Analogue Extensions (Fax, Cordless, Alarm)
4x Avaya 1408 Digital Phones
Voicemail to Email Presentation (Avaya Essential Edition)
Visual Voicemail
Message Control (Save, Delete, Forward, Repeat, Rewind, Fast Forward and Skip Message)
Break Out to Reception
All Messages Time and Date Stamped
Training DVD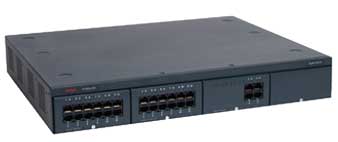 Avaya IP500 phone system is a communication key towards a company's success. And these factors will definitely aid that struggle towards that road. The base of the Avaya IP500 Office phone system is capable of supporting maximum of 8 expansion modules with combinations of the following:
384 Analog, Digital and IP Telephones
16 Analogue Trunks or 8 Digital Trunks
192 T1/PRI Channels or 240 E1 Channels
If chosen, the phone system could also support SIP trunks, as well as maximum of 128 compression channels. Using the expansion modules, analog trunks could also be added.

A quick inquiry for a quote is possible through Australia wide 1300 088 088

Additional Functionalities of Avaya IP500 Phone System
There are also several optional functionality of the Avaya IP500 phone system that could be added, which includes the following:
Auto attendant to calls to relevant department/person by pressing 1
Managing audio privileges for conference calls
Scheduling, hosting and holding conference calls
Synchronizing email messages into voicemail
Synchronizing voicemail messages in an email inbox for easy message management
Uploading documents for real-time viewing
Using agent reporting and wallboards for customer service environments
What You Get When You Use Avaya IP500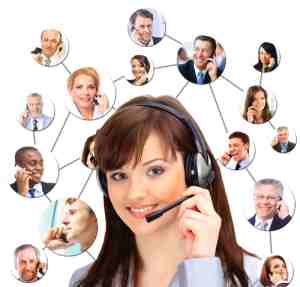 24-hour Access:
Voicemail greetings could be customized for each staff member, giving customers a more personal experience.
Automated Attendants:
Maximum of 40 automated attendants can be programmed, with 6 at most simultaneous calls, capable of handling any customer issue. Caller greetings could also be customized for key clients, in order for them to have a more personal connection. These calls are routed directly to a team of the most qualified people.
Convenience:
Users can enter the name of the person to call, for faster and easier connection.
Dial by Name/Extension:
Reach people easily just by typing a person's name or even just extension on the phone keypad.
Efficient Call Handling:
Save your time and the customers by using touch tone prompts, which can easily route customers to the right department.
Voicemail:
A range of choices that enables staff to stay connected regardless of where they are, Users can retrieve voicemail messages from the keypad on any handset, through its context-sensitive display on email or Avaya phone.
Benefits of the Avaya IP500 Phone System
One of the most affordable telephone system designed for small businesses, the Avaya IP500 phone system have excellent adaptable attributes. While additional licenses could be required when the business grows, users can enjoy the following features with no additional costs.
Can be set up as a traditional analogue or an IP (business quality VoIP) phone system
In-built voicemail, conference call and call center capabilities
Supports up to 32 connected business locations
About Avaya
Avaya is a topnotch solutions provider, positioned in the Leaders quadrant in Gartner's Unified Communications Magic Quadrant. The company was able to help a lot of companies improve their operations through a lot of key aspects. The main improvement that Avaya is able to aid for businesses is their team and customer engagement through the different devices and solutions the company offers. Avaya's offers improve team and customer engagement through aiding in the growth of both productivity and financial performance, and at the same time improve customer experience.
Avaya covers the international market, in a wider scale that other telecommunication companies cannot cater to. With a lot of channel partners all over the world, the company successfully distributes its products and services effectively around the world.
Avaya also offers excellent technical support to back up the deployment of its devices. In fact, the company helps accelerate the use of the business services and applications for its clients.
About TelephonesOnline
Considering the telecommunication industry, Telephonesonline Pty Ltd is one of the topnotch companies to offer its clients with premier products. The company assures several key points that serves as its foundation which are topnotch quality, competitive pricing, real customer service and ongoing service.
Telephonesonline only offers products of topnotch quality in order to ensure that its clients only have the best offers they could have. With products offered from only the best brands in the industry, it is not surprising to only offer the best ones. And in addition to this, the products are offered in competitive prices that could contend to other companies offering similar products.
Telephonesonline also offers excellent customer and ongoing service. The company's customer service is the product of its 20 years of experience in the industry and its ongoing service is a proof of the company's care for its customers through its follow through. Coupled with few warehouses all over the country, one of which is at 1/36 Irvine Drive Malaga WA 6090, prompt delivery is ensured.

A quick inquiry for a quote is possible through Australia wide 1300 088 088

Customer Reviews
There have been no reviews for this product.