KX-TG4500 Panasonic 4 Line cordless phone system USER_GUIDE Download Manual
KX-TG4500 Panasonic 4 Line cordless phone system USER_GUIDE Download Manual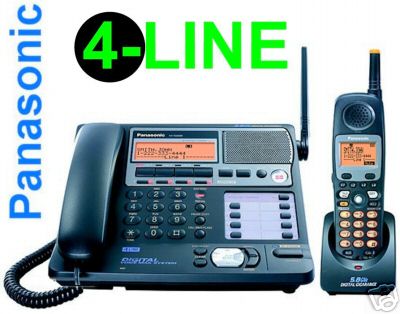 Details
Send to friend
Reviews
KX-TG4500B Panasonic USER_GUIDE DOWNLOAD MANUAL
5.8 GHz Expandable 4-Line Multi-Handset Cordless System with Caller ID and Answering System


Overview:


Give your small business the advanced features of a business telephone system without the high price tag. The Panasonic KX-TG4500 operates via cordless transmissions, so no expensive wiring or installation is required. Simply hook up the base unit to your phone lines and plug it into an AC outlet. Then set up the cordless handsets in the desired location. The system is expandable up to 8 handsets and can be added right away or over time as your needs grow. It's that simple!
The KX-TG4500 cordless phone system will keep you connected with minimal hassle, giving you the opportunity to have fully functional handsets in areas where there are no phone jacks. Enjoy the confidence of knowing your conversations will be secure with Panasonic's 5.8 GHz Frequency Hopping Spread Spectrum Technology, which provides impressive sound quality with a digital signal that makes conversations extremely difficult to monitor.

Features:
5.8 GHz Frequency Hopping Spread Spectrum (FHSS) Technology

4-Line Operation

Expandable up to 8 Cordless Handset Stations

All-Digital Voicemail System with Automated Attendant

Up to 8 Individual Mailboxes with Separate Greeting Messages

100-Minute Total Recording Time (Long Recording Mode)

Time/Date Stamp

Remote Access with Voice Prompts

Call Transfer, Message Transfer, Deliver Message and Auto Message Delete

Call Waiting Caller ID

50-Station Caller ID Memory & Dialer

100-Station Phone Directory & Dialer
Replacement Battery HHR-P104
Download Fee applies only
Customer Reviews
There have been no reviews for this product.