C47H Additional Handset for the C470IP Siemens Cordless and fixed-line phone for up to 6 Handsets
C47H Additional Handset for the C470IP Siemens Cordless and fixed-line phone for up to 6 Handsets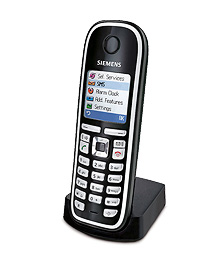 Details
Send to friend
Related
Reviews
ADDTIONAL HANDSET FOR THE Siemens Gigaset C47H

, the C47H is a handset especially developed for people who enjoy long, comfortable chats. Its slim, ergonomic design rests easily in the hand and makes even the longest of calls a pleasurable experience. Thanks to amazing battery life and talk time of up to 12 hours, this handset lets you catch-up with friends and family and talk to your heart's content. The Siemens Gigaset C47H is also packed with convenient features that are all easily accessible via the illuminated color display. Talk handsfree in brilliant sound quality while you get on with other things around the house or send an SMS² if you've got no time to chat. This model offers you a spacious phonebook with room for up to 150 contacts and a choice of different ringtones with which to personalize your calling experience. You can use the room monitoring function to serve as a reliable baby alarm and also program the phone's alarm clock to give you a morning wake-up call. Thanks to new energy-saving ECO DECT technology, the Siemens Gigaset C47H also uses up to 60% less energy than conventional Siemens phones – so it saves you money and is better for the environment. 

If you're looking for a modern handset with convenient features designed to complement your busy lifestyle, the Siemens Gigaset C47H is an attractive choice.

An illuminated color display for ease of use
An easy-to-read color display makes operating the Siemens Gigaset C47H simple no matter what the level of lighting. With this handset you'll be able to dial a friend, answer an incoming call, send an SMS, edit your contacts, or even hit the snooze button on your morning wake-up call – all without ever having to strain your eyes. 

Handsfree talking in brilliant sound quality
This handset's handsfree function is a great solution for multi-taskers with busy lifestyles. With the Siemens Gigaset C47H you can cook, clean, organize or just lie back on the couch and relax with your hands behind your head and still be able to chat with friends or family in brilliant sound quality.
A phonebook to match the busiest of social lives
If you love talking on the phone then you probably have a lot of numbers to keep track of. The Siemens Gigaset C47H features a roomy phonebook that lets you store the numbers of up to 150 of your favorite chat partners. Finding, editing or deleting your contacts is also simple thanks to the easy-to-read illuminated display.

Customize your phone with various ringtones
They say variety is the spice of life, so go ahead and change your ringtone every week to keep things fresh. With this phone you'll have ten different polyphonic ringer melodies to choose from.

Alarm clock and room monitoring functions
Because a phone can offer you more than just the means to communicate, the Siemens Gigaset C47H features a number of additional helpful features. A built-in alarm clock with snooze function gives you the chance to start off every morning on the right foot, while the handy room monitoring mode lets you keep one ear on your children while they sleep.

Save energy with ECO DECT
Featuring an energy-saving power supply, this phone uses up to 60% less energy than conventional phones – so it saves you money and is better for the environment. Like all Gigaset cordless phones, it also variably reduces transmitting power from the handset to base station according to their distance apart. Choosing ECO Mode on this model reduces the base station's transmission power by 80%* . When docked** , this phone also reduces the transmitting power of both handset and base station to almost zero. As a result, you can enjoy a more energy-efficient way of staying connected with the world.

Customer Reviews
There have been no reviews for this product.