IQ280R Analogue Interquartz HOTLINE RED PHONE with 5 Year Warranty! Use for a RED EMERGENCY PHONE, Office, Hotel Telephone
IQ280R Analogue Interquartz HOTLINE RED PHONE with 5 Year Warranty! Use for a RED EMERGENCY PHONE, Office, Hotel Telephone
Details
Send to friend
Reviews
IQ280R Analogue Interquartz HOTLINED RED PHONE with 5 Year Warranty! Use for a RED EMERGENCY PHONE, Office, Hotel Telephone
The Interquartz IQ280R Hotline Analogue Phone is a high quality basic phone ideal to be used for home and business use- whether it be for small and home offices or a large corporation in need for an excellent communication system.
Interquartz IQ280R phone has been used over several customer types, without any consideration of the size and type. In addition to that, the phone also works excellently in a lot of industries. Some of these industries include the following:
Business
Health
Government
Hotel and Hospitality
The communication device offers large key, and a bright lamp. These features will be excellent for easy and simple communication uses.
The IQ280R phone is a red phone. This makes the device looks catchy and can fit in any situation that would require fast attention to the device itself. This will be an excellent emergency phone since the phone stands out on its own and those who need to use it can easily point out the device.
Warranty: Included in the package is a 5-year warranty of parts and labour.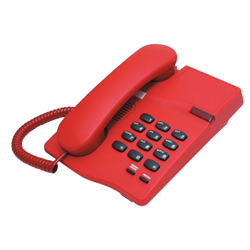 About Interquartz IQ280R Hotline Analogue Phone
The Interquartz IQ280R hotline analogue phone is an emergency phone that is in the form of a red phone. The device was designed that way to be easily catch the attention of users that will be ideal in critical situations. Some of its other features are the following:
Data Port
Ringer Light
Recall Key
Redial Key
Line Powered
Ringer Volume Control
Message Waiting Light
Desk and Wall Mountable
Soft Feet and 3 Metres Curly Cord
Hearing Aid Compatible
Ringer Pitch Control

For your questions, dial our hotline at Australia wide 1300 088 088.
About Interquartz
A privately-owned Australian telephony company, the Interquartz Pty Ltd supports over 5,000 government and corporate customers all over the market. And currently, the company has expanded excellently since it was established in 1981. From Australia, the company has also reach the markets of New Zealand, European and Middle Eastern Regions, and finally the Asia and Pacific Regions. And from those 30 years, the company has become an expert in field, enabling the ability to meticulously criticise its own products, allowing the company to provide its customers with only high quality communication devices.
Interquartz has been regarded as Australia's most experienced independent analogue phone supplier. Some its core products include the following:
Analogue Cordless Phones
Analogue Desk Phones
IP Cordless Phones
IP Phones
The company is capable of providing high quality products mainly because it is integrated in the philosophy of Interquartz and that is to provide only the best for its customers at competitive prices.
About TelephonesOnline
Telephonesonline is a telecommunications company in Australia that caters to all types of communication needs. For a simple phone system that will be just enough for small and starting up businesses to large corporations that will need a complicated and secured communication system, Telephonesonline have all the necessary products that will complete an excellent system. This is through the company's extensive list of products and services that it could offers its customers.
Telephonesonline also offers second-hand and refurbished telephony products. This is how the company can cater to small businesses with limited budget. Despite being pre-owned, the products are refurbished to function excellently like new ones. And because of the "No Compromise on Quality" policy that ensures the products are of high quality and could perform at its best. And since the products are offered at lower prices, the company can cater to almost business of all types and sizes.
Customer Reviews
There have been no reviews for this product.