Gigaset C610AIP Cordless Phone with Answering Machine
Gigaset C610AIP Cordless Phone with Answering Machine
Details
Send to friend
Reviews
Gigaset C610AIP Cordless Phone with Answering Machine
Smart communication
Answering machine with up to 30 minutes of recording time
VoIP and landline phone for up to 3 parallel calls
HD sound (HDSP™) for VoIP calls1
ECO DECT energy-saving2
The internet and landline phone with an integrated answering machine that brings communication to new heights with online features, parallel calls, and exceptional
The Gigaset C610A IP is the VoIP and landline phone that gives you smart online convenience and an integrated answering machine. You can place calls via the internet or landline, and up to 3 parallel calls can be made. All VoIP calls feature exceptional HD sound thanks to HDSP™1 technology for absolute calling clarity. The answering machine records up to 30 minutes of messages to ensure that all incoming calls are received when you are out. An environmentally-friendly phone, the Gigaset C610A IP is equipped with energy-saving2 ECO DECT technology. The Gigaset C610A IP: the phone for your internet and landline calling needs, with an answering machine.

Practical answering machine functions
The Gigaset C610A IP has an integrated answering machine that's designed for absolute convenience. With up to 30 minutes of recording time, there is space for all your messages. All new messages are displayed on the handset, and you can also program the answering machine to receive a new message notification via text message1 to an external number – for instance, your cell phone. When you check messages, a voice announces the date and time. You can operate the answering machine remotely via the handset as well as via the base station. On the Gigaset C610A IP, you can also record calls as they happen if you'd like to save information or simply a nice memory.

The advantage of internet calling
Because you can make up to three parallel calls on the Gigaset C610A IP, you have great calling flexibility. You can choose what type of line is best for each call you place: internet or landline. With VoIP, every call comes to you in exceptional HD sound1, even if you choose to talk and multi-task in hands-free mode. Also, whenever you call another Gigaset VoIP phone via Gigaset.net1, your calls are free of charge – no matter where in the world your calling partner is. These fundamental advantages of internet calling make the Gigaset C610A IP a truly high-quality communication solution.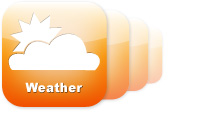 Smart online convenience
With the Gigaset C610A IP, you enjoy many intelligent online tools that truly bring telephony to a new level. An entire spectrum of online information are at your fingertips: news, weather, and horoscope are updated daily, and you can consult the translator, biorhythm checker, encyclopedia, unit converter in just a few button clicks. And if you own an account on eBay® , Facebook® or Twitter®, you can get instant notifications in your bids, friends and tweets®. The email viewer lets you check the latest status of your inbox without having to turn on your PC. Use the Gigaset C610A IP's online phonebook to look up people and businesses (white and yellow pages)1.

User-friendly extras
Made with a large, high-resolution colour display, navigation of the menu on the Gigaset C610A IP is intuitive and easy on your eyes. You can keep individual contacts and contact groups within close reach by storing their names and numbers in the Gigaset C610A IP's phonebook for up to 150 entries and VIP groups.

ECO DECT: Pure energy savings and radiation-free3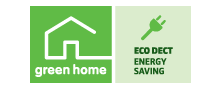 The energy-saving power supply of the Gigaset C610A IP consumes less electricity2, so it's kinder to the environment, and kinder to your wallet. Like all Gigaset cordless phones, it variably reduces the transmitting power from the handset to base station depending on their distance apart. You can also reduce the transmitting power of the Gigaset C610A IP's base station by 80%4 simply by selecting the ECO Mode. Furthermore, radiation-free3 ECO Mode Plus turns off the transmitting power when the phone is in standby.

The VoIP and landline phone with an integrated answering machine: the Gigaset C610A IP is your solution for high-quality communication with online convenience.
Key Features & Benefits
Dual Mode: easy switch from internet calls to fixed-line calls
Multiline functionality (for up to 6 handsets and 6 SIP Accounts)
Up to 3 calls in parallel (2 via IP 1 via Fixed line) with multiple handsets
Other Features:
Answering Machine with 3 announcements
30 minute recording time on answering machine
Expandable up to 6 handsets
HSDP™ Ready Handset
SMS with up to 612 characters*
Read Email on your handset up to 560 characters*
20 Number redial, 30 Name & Number missed calls list
20 ringtones (4 Real Sounds, 9 Polyphonic, 7 standard melodies)
Modern handset design and stand alone base station
Date, Time & Alarm
Illuminated graphical color display
2.5mm Headset Port
Internal transfer of external calls to another handset with prior consultation call
Eco DECT - uses up to 60% less energy
Access to social network Facebook™ and Twitter™
Hearing Aid Compatible
*SMS function dependant upon service provider
*Email supports POP3/POP3s Format only
You can also add extra handsets C610H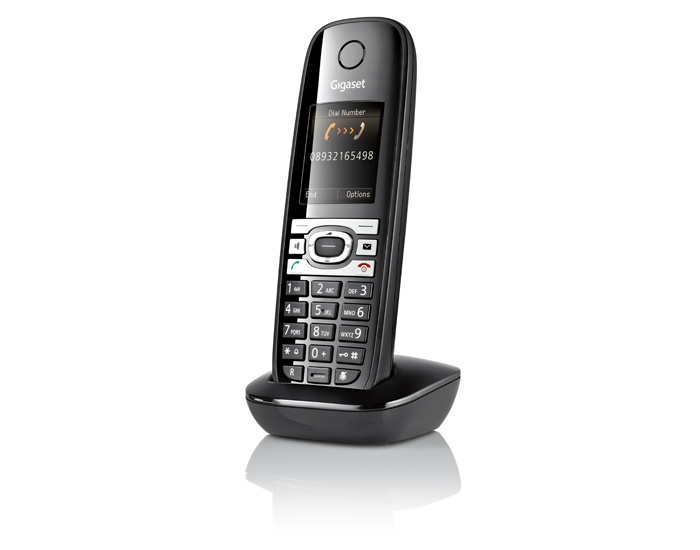 Gigaset C610AIP Cordless Phone with Answering Machine
Part# C610AIP

Order today for FAST Delivery Australia Wide: Melbourne, Sydney, Brisbane, Queensland, Perth, Darwin, Canberra and Adelaide.
Customer Reviews
There have been no reviews for this product.