EnGenius SN933 Office Series - Durafon Quad Pack-10: 1 x One Line Base, 4 Handsets, 4 chargers, 4 Batts, 4 Belt Clips, 4 Short HS Ants, AK10L ext ant. and BONUS DC UPS 2200
EnGenius SN933 Office Series - Durafon Quad Pack-10: 1 x One Line Base, 4 Handsets, 4 chargers, 4 Batts, 4 Belt Clips, 4 Short HS Ants, AK10L ext ant. and BONUS DC UPS 2200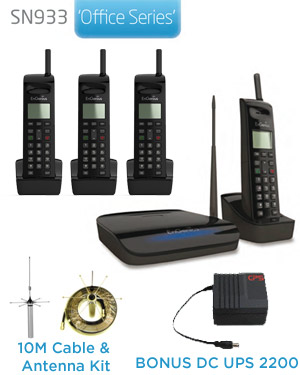 Details
Send to friend
Reviews
EnGenius SN933 Office Series- Durafon Quad Pack-10
The EnGenius SN933 Office Series can reach up to 6 km, ideal for large areas like hotels, schools, andlarge houses and offices. This EnGeniusDurafon SN933 Quad Pack is consisted of the following:
1x One Line Base
4x Handsets
4x Chargers
4x Batteries
4x Belt Clips
4x Short Handset Antennas
AK10L Ext Ant.
BONUS: DC UPS 2200
The entire package is inclusive of a 1-year warranty. In addition to that, the actual range may also be affected by several external factors. Several of these factors include the following:
Radio Interference in the Operating Environment
Distance between Devices
Environmental Conditions Impeding on Line of Sight
Please Note: Through the use of the AK10L Ext. Antenna though, maximum range may easily be achieved.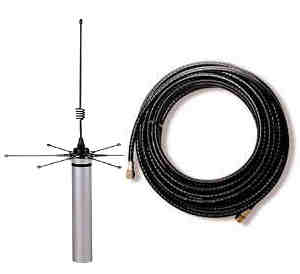 Please call for a quote inquiry on Australia wide 1300 088 088

What You Need to Know More about the EnGenius SN933 Ultra Range Long Cordless Phone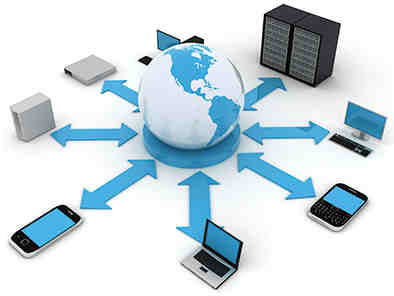 An ultra-long range cordless phone system, the EnGenius Durafon SN933 has an operation frequency that could reach at least 900 MHz.Some other information that you should know about the phone system are the following:
The EnGenius SN933 enables employees to roam beyond the confines of their offices, allowing them to stay connected over extended distances.
The phone system's range is up to 6KM and could be surely achieved by utilizing an EnGenius AN Enternal Antenna.
It is ideal for large sites, such as office complexes, large estates, resorts and schools
The EnGenius SN933 in many cases is a complementary addition to existing digital desk phone systems, DECT phone systems and Wi-Fi phone systems.
It connects to a regular telephone line or to an analogue port behind a telephone system
EnGeniusDurafon SN933 Ultra-Long Range Cordless Phone System Features
The EnGenius Durafon SN933 phone system works with all existing AK series external antennas.
Range up to 6KM Line of Sight
Two-way Hands-free Intercom
Expandable Handset up to 9
Single Colour LCD
Broadcast between Handsets
Selectable Ring and Page Tone up to 8
Handset with Speakerphone Function
Handset with Scrolling Keys
Handset Custom Name and Edit
LCD and Handset Keypad with Backlit
Auto Detection of FSK and DTMF CID Signal
Auto Change Channel during Conversation
Phonebook with 50 Entries
30 CID Memory with Time/Date (FSK & DTMF Type)
CID with Call Waiting (CIDCW)
Last 10 Calls Redial on Handset
Half Duplex Broadcast
Full Duplex Intercom
Note: The Single Colour LCD comes with white colour backlight.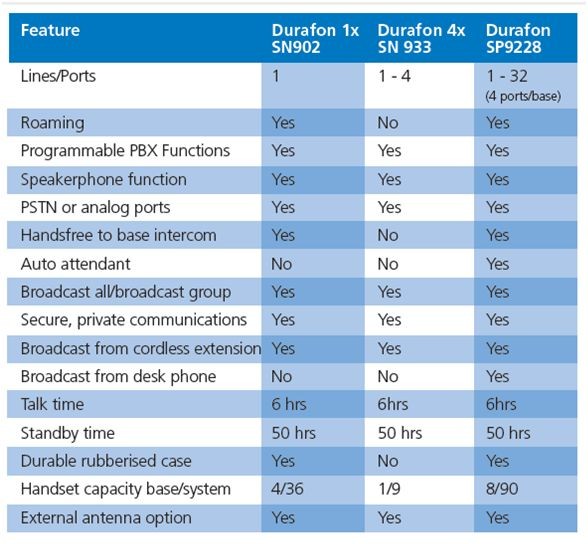 30 Phone System Features of the EnGenius Durafon
The EnGenius Durafon SN933 offers these excellent phone system features to its users:
Operation Frequency: 915~928 MHz
Up to 400mW/-111 dBm Transmit Power
Phonebook Entries: 50
Soft Menu Key
Speakerphone
Broadcast (Independent with Base)
Intercom (Independent with Base)
User-friendly MMI
Key Guard
Adjustable Microphone Gain
Handset Group Setting
Type I/II Caller ID
DTMF/FSK Caller ID
Message Waiting Detection (VMWI)
4-line LCD Display
Call on Hold
Built-in Music on Hold
Rapid Charging
Mute
Baby Monitor
Call Manager (Call Barring for Incoming/Outgoing Call)
Any Key Answer
Feature Call: 10
Adjustable Flash Time
Wall Mountable
Supports up to 9 Handsets
Earphone Call Control
2.5mm Headset Jack
Ringer/Vibrate
Handset Belt Clip
Note: The Single Colour LCD comes with white colour backlight.
Handsets of the phone system can be added individually to the base station when necessary. It can support to a total of 9 individual SN933 handsets, which also include their respective charging pod. The SN933 base station has 275g of net weight and base dimension of 39.19x128.31x34.41. Meanwhile, the net weight of the SN933 handset is 156, including the battery, with the dimension of 194.05x46.59x33.35.
About EnGenius Technologies, Inc.
EnGenius is a telecom industry expert, specializing in long range wireless communication, both for data and voice. Using radio frequency technology and similar strategies, the company is capable of delivering versatile products and solutions and that significantly improve the operations of businesses. Some of the advantages in using the company's products and solutions include increase in productivity and decrease in the total cost of ownership and operations.
The main goal of the products and solutions from EnGenius is to increase the mobility of the users. When it comes to communications, there are a lot of limitations that could be experienced brought by several factors like space, distance and environmental conditions. And the company knows these confinement factors, which is why it created a solution that could defy these factors. With a long range wireless connectivity that could provider stable and clear connection despite all these factors, the products and solutions will serve as valuable investment for businesses.
About TelephonesOnline
Popular as a first-class wholesale supplier of business communications solutions, Telephonesonline is an Australia-operated and –owned company that has been in the industry for years now. With its compiled years of experience, the company can confidently say that we know the telecom industry in the country very well and that all communication needs can be catered to. We deliver products and services, wherever you may be in the country.
We at Telephonesonline assures top-notch quality in all our products and services combined with competitive prices that all sorts of customers can benefit from. But more than our ensured first-class offers, we are extremely proud of the real customer service and ongoing service we offer.
Being in the industry for 20 years now gave us an excellent sight on what our customers need and want. We create packages that could exactly suit their communication needs, helping them save money. In addition to that, we also have an ongoing service where we follow-up on our existing customers, to know if there are other needs that we can help them with.

Please call for a quote inquiry on Australia wide 1300 088 088
Order today for FAST Delivery Australia Wide: Melbourne, Sydney, Brisbane, Queensland, Perth, Darwin, Canberra and Adelaide.
Customer Reviews
There have been no reviews for this product.